Current Tour
Latest reviews
Older Tours...
Tours 2005
Scandinavia plus
North America summer
Tours 2004
UK 2004
Russia & Ukraine
North America 2
Europe
Down Under
Asia
North America 1
Tours 2003
Europe
South America & Mexico
Ripening Tour part 2
Ripening Tour part 1
Tours 2002
Andrew Summerhayes' 31 years of DP
Solo shows: Paice, Glover, Lord
UK (rescheduled) + CH, Dubai, Greece
Germany
USA, part 2
USA, part 1
Asia
Russia, Ukraine & The Baltics
Ireland & UK
Tours 2001
Paice and York
Europe
North America
Australia, Japan, India
Concerto Tour 1999-2000
South America & Europe
Royal Albert Hall 1999
A.Band.On.Tour 1998-2000
1 - Europe-1 98
2 - USA 98
2a - Editor's Tour Special
3 - UK & Europe-2 98
4 - South America, Australia, Asia 99
5 - Europe-3 99
6 - Japan, Finland, Greece, etc 2000
Purpendicular Tours 1996-1997
UK, Europe-1 96
Europe-2 96
Europe-3, Japan 96
North America 96
South America 97
Europe-4 & Canada 97
House of Blues, USA 97-98
Ian Paice clinics UK 98
Much older tours...
1968-1995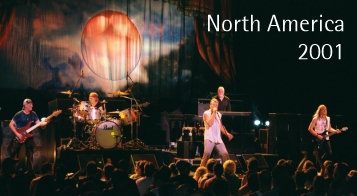 Deep Purple toured with Ted Nugent and Lynyrd Skynyrd. We have reviews of all the shows, including a charity show in Italy in May hosted by Luciano Pavarotti at which Deep Purple were special guests. Ian Gillan and Pavarotti did a duet!
Go straight to the condensed tour highlights or browse the complete reviews below. View the setlists.
Photo this page by Brian Caseau (Mansfield, MA June 16, 2001) - see more photos from the tour.
Only a few weeks after Deep Purple came off the tour with Lynyrd Skynyrd, LS's bass player Leon Wilkeson sadly died. Read Roger Glover's memories of his colleague.
Submit your review to The Highway Star.
Submit your concert photos to The Highway Star.
Thank you,
Rasmus Heide, reviews editor.
With thanks to Jennifer Stokes.
Reviews with * include setlists - possibly unconfirmed.
This page last updated: August 1, 2001 (224 reviews)


Italy 2001 - with Luciano Pavarotti

Parco Novi Sad, Modena, Italy
May 29, 2001
Andrea Cimaglia
Carlo Alberto Migliazza
Francesco Colombo
[Italian]
North America 2001

Tweeter Center, Tinley Park, IL, USA
June 2, 2001

Randy Engman*
Chris Parsons*
Joe Skinnell*
Rick Carlson
Brian R. Slack
Steve L.S.
Ray J. Marschke
Hans Albers
Joe Steger*
Steve Heaven
Mike Despeghel
Sunrise Musical Theatre, Fort Lauderdale, FL, USA
June 5, 2001
This show was filmed for a possible DVD release.
Frank Eckert*
Donald J. Fahey
Yoshi Yamamoto*
Thomas J Siravo
Chris Niforatos
John Mascaro
Stephen Weimer
John Doe
Noel Aronson
Larry Steiner*
Jim Howe
Del Ferguson
Scott Fansler
Carlos
Danny Ferguson
Tracy Heyder
Century Tel Center, Bossier City, LA, USA
June 7, 2001
Phillip Baxter*
John S. Vinet
Brent Soileau*
Jean-Pierre Harrison
Sammy Romeo
Ted McKinney*
Kenneth Thomas Carter
Kansas Coliseum, Valley Center, KS, USA
June 8, 2001
Peter Burns
Omaha Civic Auditorium, Omaha, NE, USA
June 9, 2001
Michael Atkins*
Jim Collins*
Cindy Probst
Jay Denne
Mike Sokolik
Target Center, Minneapolis, MN, USA
June 10, 2001
Pavel*
Jeff Engelen
Randy Wheadon
Steve Hanson
Stephen Berg*
Tim McCray
Fraser Raven
Michael Carnevale
Coors Light Amphitheatre at Montage Mountain, Scranton, PA, USA
June 12, 2001
Angie Zinn
David Drury
Rex Mundi
Brian Stephen
Eric Robeson*
Travis Huhn
Suzanne Quinn
Alex Curtis
Bob Gardinor
Eli Narvaez
Dale Findlay
Jones Beach Amphitheatre, Wantagh, NY, USA
June 14, 2001
Akiko Hada*
Steve Guidice
Brendan Johnston
Bobby Giampia
Mitch Lesovoy*
Al Johnston*
Aleksey Gnilitskiy
Glen King
Joey Gioielli
Bejan Rafii
Dave Scharf**
Constantinos E. Scaros
J.R. Taylor
P.N.C. Bank Arts Center, Holmdel, NJ, USA
June 15, 2001
Peter Kulpa
Akiko Hada*
Rich Rollo
Joe Nardi
Charlie Koci
Kevin Bird
Leon Muhudin
Scott Williams*
Brendan Johnston
Micheal Zaleski
Bill Moln
Anthony Losito
Eric A. Eisenstein
Tweeter Center, Mansfield, MA, USA
June 16, 2001
Frank Fitzgerald
Rich Shailor*
Rick Wells*
Paul Wollmann*
Mark Jagger*
John Isaac
Bruce Sullivan
John B Graves
Pat Stratton*
Dean Notesfield*
Brett Milano
Brian Caseau's daughter sang onstage with DP
Performing Arts Center, Saratoga Springs, NY, USA
June 17, 2001
Keith Fotheringham*
Jim Corrigan
Mike Sims
Paul Nunzio Maceli
Dan Gilliam
Gary Poronovich*
D. Nichols
Greg Piekarz
Molson Amphitheatre, Toronto, ON, Canada
June 19, 2001
Glen Miller
Jim Irons
Kris Borzym
Brian Wormington
Norangie Carballo
Terry Wong
Steve Driscoll
Rod Sein
Pat Valente
Mark Schmitting
Richard Hutton*
Ronald Gaerlan
Will Walton
Grant Roadknight
Matt Sullivan
Darren Abernethy
Bob Burgess
Geoff Houlton
S. Bray
Blossom Music Center, Cuyahoga Falls, OH, USA
June 20, 2001
Ed Alisauskas
Andrew Hecht
Brendan Clutton
Mike Ruff
Geoff Jones*
Tom Bopp
Post-Gazette Pavillion at Star Lake, Burgettstown, PA, USA
June 22, 2001
Dave Ohliger*
Gordon Thrasher
John Grosskaus
David L. Blinn
Tammy Milose
Jeff Burton
Dan Becker*
Meadows Music, Hartford, CT, USA
June 23, 2001
Steven Redd
Chris Karamon
David Greenberg
Ken Young
Bruce Sullivan
Adam Dolan
Sebastian Doh*
Jim Paidas
Brendan Johnston
Jim Sherridan
Darien Lake Six Flags Performing Arts Center, Darien Center, NY, USA
June 24, 2001
Bill Emanuelli
Daniel J. Lasnick
Richard Woodhouse
Rich S.*
Debbie Mettler
Gary Entler
Riverbend Music Center, Cincinnati, OH, USA
June 26, 2001
Dave Heitmeyer*
Jerry Pieschel*
Steve Jobe
Ken Ballinger
DTE Energy Music Theatre, Clarkston, MI, USA
June 28, 2001
Laurens van't Zelfde
James Gemmell*
Paul G. Steinmayer
Mark S. Gray
Eric Andrews*
Amit Roy
Matthew Di Flumeri
Chris St.Germain
Verizon Wireless Music Centre, Noblesville, IN, USA
June 29, 2001
Chris Parsons*
Jayson Wyatt*
Ronnie S.M. Whittington
Jimmy Cain
Jason Dyer

Polaris Amphitheatre, Columbus, OH, USA
June 30, 2001
Kara Cassels
Chris Parsons
Ivica & Anne Lukenda
Larry Powell*
Tracy Heyder
Andy Sevenfornine
Bradley Jay Smith
Phillip C. Cray
Somesh Nagthan
Sandstone Amphitheatre, Bonner Springs, KS, USA
July 3, 2001
D. P. Roberts
Jim Collins*
Bob Loughbom
Ashutosh Agte
Michael Freeman
Ram Swaminathan
Zoo Amphitheatre, Oklahoma City, OK, USA
July 5, 2001
Douglas Patterson
Gayle Albin
Nicolas Venjean*
Milan Milatovic
Phil Brown
Lyndal Skaggs
Smirnoff Music Centre, Dallas, TX, USA
July 6, 2001
Westerlund Family
Ralph Brosius
Greg Hollis
Bob King
Gary King
Alec Richards*
Dallas Morning News
Fenlaw
Rogelio Matamoros
Paul Kaun
Verizon Wireless Amphitheatre, San Antonio, TX, USA
July 7, 2001
Lance Farley
Mike Frederick
Russ Davis
Jack Collins*
Tom Scheppke*
Scott Holman*
Mark Campbell
Alan York
C.W. Mitchell Pavilion, The Woodlands, TX, USA
July 8, 2001
David Montgomery*
Derek Singleton
Bob King
Harold Favret
Steve Kapp
Scott Holman*
Jean-Pierre Harrison
Mark Hoffman
Alexander Kamburov
Bob Ruggiero