DUCK, GEESE!!
Deep Purple's 1998 US tour
The Highway Star web site editor's report
Top
In August 1998 an international team of four The Highway Star editors met up on the US East coast to follow Deep Purple on tour with Emerson Lake & Palmer and Dream Theater. Almost three years later, Deep Purple's current tour is taking them back to some of the same venues. This is the previously unpublished story of the four editors' adventurous travels then. Blame non-web related aspects of life for the story only appearing now. Lean back and enjoy - it's a bit long-ish. Comments are welcome.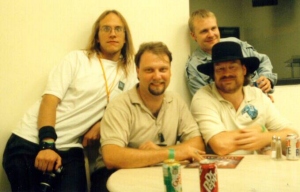 Svante - Ed - Rasmus - Wolf
The shows - August 1998
6 - Holmdel, NJ - Arts Center
7 - Hartford, CT - Meadows Music Theatre
8 - Mansfield, MA - Great Woods
9 - Wantagh, NY - Jones Beach
11 - Wilkes-Barre, PA - Harvey's Lake
12 - Camden, NJ - E Center (cancelled)
By Rasmus Heide, October 1998
The concept - four dedicated Deep Purple fans and Highway Star editors renting a car to tour around New England for a bunch of Deep Purple shows - proved to be a most enjoyable one, to say the least. Between us we represented four nations on two continents - Ed Janx, the local guy from New Jersey; Wolf Schneider from Vancouver, Canada; Svante Pettersson from Sweden and your humble reporter from Denmark.
We would spend the afternoons driving between shows, with Ed on his laptop computer trying to do a bit of work, and Svante constantly taking pictures of "all the things we usually only see in the movies." I'd been designated the driver's role early on, perhaps because of my past experiences (or perhaps in spite of my past experiences, as the exclamations from the back seat would sometimes indicate!). Co-driver assistance with the maps was provided by Wolf. He was also our notestaker and the man with the phone.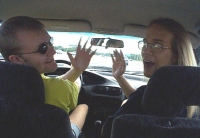 Rasmus and Svante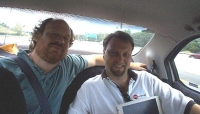 Wolf and Ed
As for Deep Purple, they were everything we expected them to be: Exciting, hot, thrilling, touching, inspiring, humid, captivating, fascinating, lovely, aggressive, unending (almost) and most of all, a lot of fun! But you want details? Read on then...