DUCK, GEESE!!
Deep Purple's 1998 US tour
The Highway Star web site editor's report
Part Two
August 9 - 1998
[Phrase of the moment: "It's in the bag!!" - realising that everything, no matter if we had just had it with us a moment earlier, somehow wound up packed back in the locked trunk of the car requiring us to pull over and rummage for it.]
After an anxious morning wondering if Ed was going to make an appearance before checkout time, he finally surfaced at the buzzer and we were able to get on our way for the next show!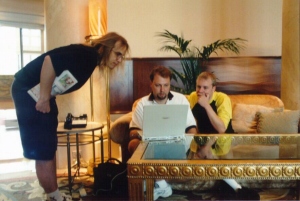 On-the-road update of THS
We made a stop at a expensive- looking hotel in downtown Providence, RI, where Ed plugged his laptop into a wall phone socket and logged on to the internet. Svante wrote a short update mail to the newsgroup explaining why we hadn't yet been able to update the site with US tour reviews as promised, but provided a few tantalizing details of what we'd seen so far. All from a luxurious couch in the hotel reception area - the wonders of modern technology!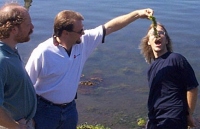 Feed the Swede!
We were back on the road again in no time! From Providence we decided to take the scenic seaside route for a while. Passing through Mystic we took a quick break at the harbor where Ed attempted to feed Svante a handful of seaweed!
Getting back on the route a wrong turn was made and I had to do a quick u-turn, but who said it's illegal to drive a car on the sidewalk in the States??? Luckily, the observing cop-on-a-bicycle didn't think it was. Worse, we realised we'd forgotten the camera case on the roof of the car and had to retrace our route past him looking for it!
Unfortunately, it was street-market day in Mystic, and so we were forced to snake our way slowly through the town as the minutes ticked by. To further delay us, when we finally regained the interstate highway we encountered the weekend traffic returning home to New York City, and so endured a long journey in heavy congestion until, several hours later, we had travelled around the sound and were finally heading into Long Island itself.
As a result, we made it to the windswept Jones Beach Arena in Wantagh, NY just in time to miss Dream Theater yet again. I would like to have seen more of them, but as we were constantly late it didn't happen. In the corridor leading into the venue there was an incongruous sign hung from the ceiling saying "Quiet Please." What? At a Deep Purple show?! Ridiculous!

We made our way to the backstage area as ELP took the stage, just in time to greet Roger Glover before he left for the dressing rooms to prepare. He was surrounded by his family who had come to catch the show, as they live only a couple of hours from the venue. We then went to stand in the wings to watch ELP's set, a lackluster performance that seemed a carbon copy of the previous ones, right down to the 'spontaneous' gestures and comments made to the crowd at strategic moments. The tension onstage between the players seemed heavy, and they even appeared to ignore each other when standing backstage pausing before returning for the encore. None too soon, the final notes of their performance had faded away, the set change was effected with alacrity, and Deep Purple strode out to meet the New York audience.
During the first verse of the opening song "Hush", Svante and I looked at each other with disbelief. We'd moved out front to view the show from there, but were we really hearing Ian Gillan croak his way through the opening song? After "Bludsucker", when he did his customary "Good Evening!" bit, it was completely obvious that he almost couldn't speak. At times it was painful listening to him straining his way through the show, but he appeared to be in a great mood and did his utmost not to let anyone down, smiling and dancing about as always, and commenting his own troubles: ""Almost Human", which is pretty much how I feel!".
Actually, the biggest let-down was the audience, as they didn't seem to care one way or the other; nearly every song received only limited response, with people remaining in their seats sitting on their hands. The only time they came to life was during "Smoke On The Water" and "Woman From Tokyo", and they relapsed back into silence immediately afterwards. Coming right after the explosive atmosphere in Mansfield, this totally non-participatory behavior was the worst aspect of this show.
In all fairness, it would probably have been better for everyone if this show had been cancelled to let Ian have two full days to recover for the remainder of the tour, as the next day was a day off anyway. Nonetheless, in spite of his bad voice the show still proved a winner, simply because the rest of the band held everything together wonderfully. There was a tangible sense of five musicians doing their best to put on a great show under trying circumstances.
And judging this show purely on the merits of the vocals would have been a mistake. Jon played a particularly haunting solo before going into "Lazy", and Steve Morse gave a superior showcase performance before "Smoke On The Water". Later, rather than giving his usual lullaby introduction to "Speed King", Ian Gillan announced that they'd now perform a tango, cueing Jon on the piano (as he was quoting a few chords from his "Before I Forget" album) to segue into a Latin rhythm. Roger Glover remarked from his side of the stage that "It takes two to tango!", resulting in laughs all around. Later on in the song, Jon dished out some of the weirdest runs yet heard with Steve echoing them back effortlessly.
One section of the crowd at last came to life during the closer "Speed King", and were chanting the "Black Night" chorus before the band returned for the encore and finished off the proceedings with another blasting version of "Highway Star".
Backstage after the show, Steve Morse said that normally on a day off (which the next day was), he'd take a sightseeing tour of the local airports. He's a keen pilot and owns no less than four airplanes - yet he lives in a trailer!
Wolf also became the unofficial Glover family photographer, which almost became a disaster when the digital camera's batteries expired just as Lesley Glover had finally gathered the clan together, precipitating a frantic search for spare batteries.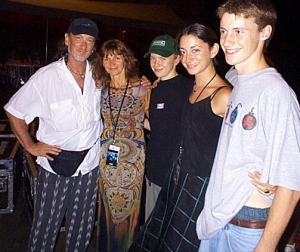 Roger Glover and family
It was a long drive back to Ed's house that night. Amidst cries of "Go left here, left! No, sorry, go right!!" and "Watch out, they're stopping up ahead!" as we weaved our way through New York City traffic, surprisingly heavy in places even at that early-morning hour, we took the opportunity to discuss some internal web site business. Although the Deep Purple web site is officially endorsed by the band and management, it is still based entirely on volunteer work. What with the editors being spread out across the globe, we normally don't get many chances to meet face to face. Indeed, one of the most positive aspects of this whole trip was finally being able to spend some time together. Sadly, Wolf would be heading back home early the next morning, so it was time for last farewells before another well-earned night of rest.
August 10 - 1998
[Phrase of the moment: Various exclamations of joy over the ice machine in the hall at our hotel in Wilkes-Barre - not a usual sight in Europe!]
On our day off, Ed went to work and Svante spent some time updating the web site from Ed's laptop at home before we made our way towards Wilkes-Barre, PA. Ed would hook up with us later. We arrived there in the late afternoon and checked into the excellent Hampton Inn up on a hilltop, (welcomed by a very friendly receptionist, a US Army veteran). Our rooms, which were exactly the same price as the backroom closet we'd had in Manhattan, had everything you could possibly want - so cool! We were kids in a toy store! The restaurant in the hotel next to ours had been recommended to us by our receptionist, so we thought we'd grab a bite there. We'd barely entered the place when we bumped into Ian Gillan and his charming daughter Grace. He obviously relished the day off with his family so we tried to stay out of his way, concentrating instead on Chastity, our fabulous waitress! Afterwards, we made good use of the bar's stock of local beers before hitting the sack.
August 11 - 1998
[Phrase of the moment: "Where's Chastity?!" - Svante and I already missing our favourite waitress of the entire trip!]
The amphitheater at Harvey's Lake, 20 miles outside Wilkes-Barre, is a lovely open venue with a view over the lake behind the stage. We arrived early and managed to get some photos of Deep Purple's gear during set-up in the afternoon.
While it was Deep Purple's crew who set up the band's gear and tested it before the show, Emerson, Lake & Palmer were all there in person for their soundcheck, noodling around aimlessly for a while. Perhaps they were short of qualified crew, or just had nothing better to do?
The local rock station, The Bear, kept hyping Purple's show on the air. They'd even laid on a barbecue at the venue and were broadcasting on location, although nothing nearly as elaborate as the WCCC set-up in Hartford. They'd brought their teddy though!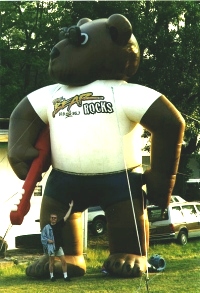 It's your reporter in white socks!
We also spotted a guy with Purple hair - I kid you not!
It was clear from the outset that Purple were performing to converts here! The area in front of the stage was immediately cleared of plastic chairs (see The Sheds, following) and the crowd got down to some serious rocking. Way back in the crowd someone was holding up a huge sign saying "Steve Morse, I'm Your Biggest Fan." Occasionally the sign was turned around, revealing the message on the back: "Autograph, Please!" As it turned out, this was a young boy whose mother had taken him along to see his hero. After the show, the fan got to meet Steve - the look in the boy's eyes said his day was made!
There was a slight change in the set list: Steve's solo seemed to just build and build, and then all of a sudden he dove into the "Cascades" riff. Ian Paice was already backing him full throttle and soon Jon and Roger joined in as well. When the jam ended, Steve did his best Jimmy Page interpretation by quoting from the "Heartbreaker" solo before launching us into "Smoke On The Water". What a rush! Apparently, because Ian's voice still wasn't quite in shape, they'd opted to lose "Ted The Mechanic" and to make up the time, Steve added the "Cascades" bit to his solo. On the other hand, not operating on full speed didn't stop Ian from launching into "Not Fade Away" during "Speed King" and there was no shortage of sweat and enthusiasm this night either. After "Highway Star", which featured Roger Glover seemingly shredding his bass to bits, Gillan commented that it had been great: "In fact, we're gonna organize some busses and take you with us for the rest of the tour!".
August 12 - 1998
[Phrase of the moment: "Where's he going now??!", as Ed was leading the way to Philly - sometimes!!]
The following day we drove our own motorcade down to Philadelphia - Svante and I in the Dodge, Ed in his 4WD truck and Angie from York, PA in her super cool V8 Chevy! Ed took us to his old favorite lunch joint were we greased ourselves up on some fantastic Philly Cheese Steaks! There was also time to check out a couple of record stores. Just before 7pm, we arrived at the venue in Camden, NJ (a suburb of Philadelphia), but the staff at the parking lot refused to let us in: "The show's cancelled!" they shouted. What?!
Making our way into the venue, we soon learned that Dream Theater's drummer, Mike Portnoy had come onstage at show time, with plenty of people already in their seats, to announce the show was being postponed. Deep Purple's roadies had been asleep on their bus when they got the unexpected call telling them to start packing as the show was off. The production crew still couldn't tell whether it was a postponement or a proper cancellation; It was literally a last minute thing. Apparently, Ian Gillan had received medical advice to take a serious rest. Roger Glover had called him in his hotel room and not even been able to recognize his voice, which had been reduced to a whisper. Fortunately the audience was very understanding, but clearly disappointed. Refunds were being given, but there was some confusion and some grumbling.
Philadelphia's always been good to Purple, and they've done some fantastic shows here in the past, so it was one place I'd looked forward to visiting and experiencing the band in. Over the years, I've seen Deep Purple encore as a four-piece without Blackmore at Wembley in 1987; I've seen Ian Gillan premiere his entire "Toolbox" album live two months before release in 1991; I've been to some of the most intense and fantastic shows on the 1993 tour - watched the 'spectacle'in Birmingham (now available on the "Come Hell or High Water" DVD and video), and witnessed a very emotional last night with Ritchie Blackmore in Helsinki, Finland. But I'd never been to a cancelled Deep Purple show before! Ah well, there's a first for everything...
I didn't feel too disappointed however, as I'd experienced one of my best-ever Purple shows in Mansfield a few days before, and Wilkes-Barre had been incredible too. We were leaving the States the following day, but we later learned that by the next show Ian had fully recovered and there were no more problems on the tour.
Svante and I said our goodbyes to Ed and celebrated the end of our part of the Deep Purple tour together with Angie by visiting Olga's Diner long after midnight.
August 13/14 - 1998
[Phrase of the moment: "Goodbye."]
The next day we had a quiet drive back up to New York, where Svante caught his plane back to Europe. I spent an additional day in Manhattan, abusing my Visa card in assorted book stores and the Virgin Mega Store before rushing off to catch my plane at JFK Airport. Thus ended the great US East Coast Highway Star Editor's Tour of 1998.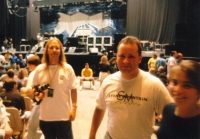 Svante, Rich & Julie.
Pre-show in Hartford
End bits...
The Sheds - concerts the American way
A lot of the venues on this tour were what is known to the band's crew as 'the sheds', a sort of combined open-air/in-door amphitheater. It's all reserved seating, except for the general admission 'lawn seating' outside on the hills overlooking the auditorium (which caused a certain amount of confusion in Wilkes-Barre, as the seats were just cheap plastic gardens chairs lined up with no numbers on them!).
For the purpose of making sure no one from the cheap seats at the back of the venue sneak into the better seats at the front, a number of Event Staffers are employed to check people's tickets at the entrance to each section of seats, and to quell rowdiness in the seats. In theory, this is a very efficient way of handling the crowd. In practice, however, some of these Event Staffers take it upon themselves to also ensure that an atmosphere of quiet calm reigns among the audience.
Naturally, this borders on destructiveness when we're talking about a rock'n'roll show such as Deep Purple! In Hartford a guy two rows behind me complained that he couldn't see anything because I was standing up and he was sitting down. Tough luck - I was there to enjoy myself and the music, you see! After a while he fetched one of these Event Staffers to ask me to sit down. I argued my case to the security person, and he gave up. Shortly thereafter, however, a second Event Staffer turned up and grunted to me that I must down! Arguing my case with him seemed pointless as he simply assumed a threatening pose and repeated his order. Realizing that I'd rather see the show seated than not at all I reluctantly complied. And to make the whole thing moot, a song or two later Steve launched into "Smoke On The Water" and the whole crowd erupted to its feet anyway!
Unfortunately, the good atmosphere had been dampened, and this incident was representative of what others experienced as well. To top it off, the band often complained about the relaxed audiences, commenting that their usual European audience starts the show the way the Americans end it, with everyone on their feet, screaming and shouting and adding to the atmosphere.
Some of these places proved quite impressive places for rock'n'roll shows. Just about any seat in the house had a great view of the stage and the sound was spot on - for which Moray deserves a huge credit! Many of the venues had elaborate set-ups with the show being filmed and relayed to large video screens throughout the venue. In Hartford they even had little speakers in the rest rooms so you could listen to the show while you peed! This was definitely America!!
It raises a question, though: as there's always demand for a Deep Purple live video after each tour, why not keep the work of these local video crews and assemble them into a commercial package once the tour is over? Perhaps this is something to look into for a future US tour.
Feed me, I'm a tourist!
Being on the road like this, it's hard to avoid junk food temptations; luckily for us, we were in America where junk food is at its best! At 2:30AM in Wilkes-Barre PA, Svante and I found ourselves choking on a king-size portion of meatloaf with mashed potatoes and brown gravy! It was an enlightening experience, but we realized we'd be sick if we ate it all - so we did! :)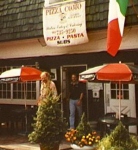 Ed's local pizza joint
And while the burger discussions in Europe revolve around McDonalds versus Burger King, we soon realized that in fact Wendy's is much better, if you really want burgers. Also, the incomparable sandwiches and pizzas in Clinton NJ deserve a mention.
The songs
"Hush"
"Bludsucker"
"Strange Kind Of Woman"
"Ted The Mechanic" (Holmdel, Hartford and Mansfield only)
"Pictures Of Home"
"Almost Human"
"Woman From Tokyo"
"Watching The Sky"
"Seventh Heaven" (Holmdel only)
Steve Morse's solo
"Cascades" (instrumental) (Wilkes-Barre only)
"Smoke On The Water"
Jon Lord's solo
"Lazy"
"Perfect Strangers"
"Speed King"
Encore:
"Any Fule Kno That" (Hartford and Mansfield only)
"Highway Star"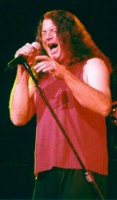 Remember when hair was fashionable?
Mountains, Eagles & Roger!
- the inimitable Gillan bits
- "Shoot that dog!" (after especially exciting songs!)
- ""Any Fule Kno That" from our new album "Abandon" - it's available!"
- "This is the title track from an album called "Perfect Strangers", and the song is called "Perfect Strangers", thank-you."
- Walking behind the amps commenting on his discovery there; "Somebody's drunk my drink!"
- The new verse in "Lazy": "Don't want you crying, around my door, I won't be stepping in those puddles no more."
- ""Perfect Street Rangers", the old blue and white!"
- Walking out into the wings at Jones Beach, looking down from the stage upon the sea; "It's the water! Hello!"
- "Some time ago we did an album in Montreux, Switzerland. Here's one from that album, it's about... oh well! ("Pictures Of Home")
Honourable Thank-you's & Hello's!
Erin Janx (Nice back - it's all I ever saw of you! Sorry for keeping Ed out so late.); Mark Roper & His Mad Entourage; Rich Shailor & his lovely Julie; Brandon Johnson (friend of a Pickering); Angie Zinn (cool wheels!); Brad 'quiet' DeMoranville; Mark Jagger, the tech guys, Matt, Mickey Lee & Skoots (will he ever tell it all?); VIPs Colin & Charlie; Moray & Rob (sound folks extraordinaire); and all the THS readers we met...
This is Part Two, go to: Top / Part One
All photos by Svante, Ed, Wolf and Rasmus.
More (and larger) photos from the tour.