DUCK, GEESE!!
Deep Purple's 1998 US tour
The Highway Star web site editor's report
Part One
August 5/6 - 1998
[Phrase of the moment: "It's not [eyeland], it's [izland]!" - what everyone told us when asking for directions to Woodbridge Island.]
Svante and I met up at our hotel in Manhattan. The Dutch airline had managed to lose, or rather leave behind, Svante's luggage in Amsterdam (fortunately, it turned up two days later). We spent the rest of the day with a walk around the island, checking out the sights - a jazz band in a park, the Virgin Mega Store (where we finally realised it was time to move on when we started browsing the cassette racks!) and getting pushed along the queue in a busy Times Square pizza restaurant! This was New York, maaan!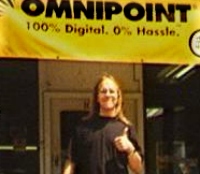 The motto for The Highway Star
Later we received fantastic service from the waitress in the little Broadway bar that became our home for a few hours, until we decided around 3am that it was time to go home. The walk back to our hotel was a revelation. We'd always heard that New York is the city that never sleeps, yet we didn't seem to meet many people that early morning. After a few hours sleep we met up with Wolf at Newark Airport. Just like I expected, he was busy with a book when we spotted him (he was already working on the tour diary)! We picked up the rental car (a cool silver Dodge Stratus) and headed for Ed's office.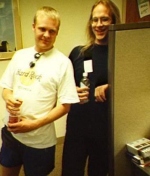 Rasmus and Svante try to squeeze into Ed's office
I'd naturally expected to see him in a nice big office, but he showed us to a cubicle smaller than your average public toilet! "Come on! This really your office, Ed?"
But let's fast forward to the first show. On the drive to the E Center in Holmdel, NJ, we spotted a small sign at the Toll Plaza on the New Jersey Turnpike advertising the show. Cool - our first sighting of the Deep Purple name!!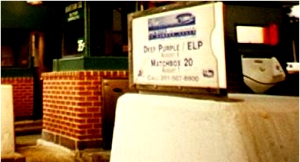 New Jersey turnpike - it's Deep Purple!!
Dream Theater and Emerson, Lake & Palmer were support on the entire US tour. Unfortunately we were constantly late, so we kept missing Dream Theater. They're incredibly skilled musicians, and they were very popular with the locals with quite a few people coming to the shows mainly to see them. ELP managed to impress me on this first night. I'd never seen them before and found their particular brand of pompous, classically-inspired music quite entertaining. A very appropriate support act to Deep Purple.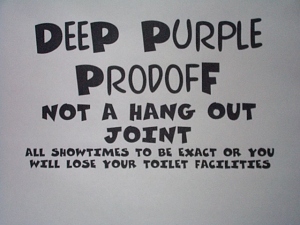 DP Production Office doorsign
The first two nights on the tour they couldn't quite contain themselves and ran over time, causing Purple to have to skip a song or two to adhere to the strict curfew. Purple's crew however seemed to get it all sorted out and not without humour either.
I found it quite cute that Keith had brought along his old 1970's refrigerator-sized Moog, but was slightly disappointed that he only used it for one nonsense solo, punctuated with cheesy pyrotechnics at the end. Beyond that, they're obviously very gifted musicians, but during the five shows I saw their concentration sometimes seemed to drift.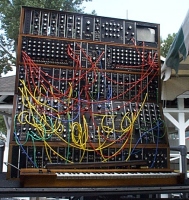 Keith Emerson furniture
But onto the main attraction. I'd thought the European Deep Purple dates I'd seen were great, but I was in for a real treat on the US dates. They were like an extremely well oiled machine, unbelievably tight and very impressive. The first show did show one or two signs of the band having had a few weeks off, but after that they were able to hit the roof (so to speak) every night. Excellent, solid musicianship at its very best.
I felt very proud of being a Deep Purple fan at the show in Holmdel. Initially I was a bit disappointed because I realized that in shortening the set to accommodate for the extra band on the bill, they'd cut out some of the new songs instead of the old ones. Whereas in Europe they'd had six new songs (not counting "Bludsucker") in the set, here in the US they chose to only perform "Almost Human" and "Watching The Sky", with "Ted The Mechanic", "Any Fule Know That", and "Seventh Heaven" also getting a couple of playings over the course of the tour. On the other hand, they hadn't had that very nice backdrop with them in Europe.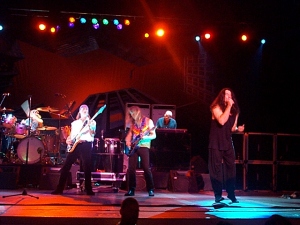 Spot the backdrop!
After the Holmdel show, we (minus Ed, who was off taking care of business) joined about 30 others backstage to meet with the band in a large room that resembled a 1950's diner. We commandeered an empty booth and settled in to wait. We were rewarded shortly as one by one, some of the members of Deep Purple drifted in to be immediately set upon by the waiting fans. We lounged casually in our booth, watching the scene unfold (a classic moment: Ian Gillan is asked to autograph a "Slaves And Masters" promotional poster. He does!); and were flattered by each band member taking a moment, as they were making the rounds of the room, to come over, join us in the booth and exchange some short greetings with us (usually starting with "What on earth are you Europeans doing over here??"). All too soon, they were being hustled away to their hotel, and the crowd of guests quickly dispersed. After a very brief set of hello's with some of the backstage crew, we located Ed and headed off into the New Jersey night, a very auspicous beginning to the tour behind us.
August 7 - 1998
[Phrase of the moment: "Duck - GEESE!!" - every time we were set upon by one or another of the marauding bands of water fowl everywhere in Clinton, NJ.]
Driving into Hartford, CT the next afternoon our radio happened to be tuned to the local rock radio station WCCC. They kept mentioning the Purple show that night and they were announcing an interview later on with the band. It turned out they were broadcasting from a tent backstage. Inside the venue we teamed up with Rich Shailor & Julie - our local guides for the next two shows - and elected to watch the interview rather than catch ELP's set. "Backstage" proved to be the hospitality area, a fenced-in courtyard behind the auditorium with a large beer-tent style canopy. Mostly deserted, one of the picnic tables held a couple of Dream Theatre members and a few of their friends, and in the tent were the two DJs carrying on a Mutt and Jeff routine. Soon Roger Glover and Steve Morse came out of the building, sat down at the DJ's picnic table, and we witnessed a live radio interview with them.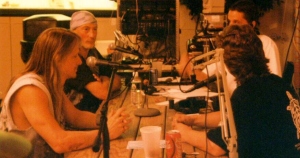 Steve and Roger on the air
The DJs seemed to genuinely care for the band and even gave our beloved web site a quick name check. It was interesting to watch it unfold.
During the show Ian Gillan thanked the radio station - "Thanks to WCCC-CCC-CCC for playing our records!" - and also stopped by their tent for an interview afterwards. The show itself was definitely a winner, and although Ian Paice was complaining afterwards about still being tired ("I'm still jetlagged: in the middle of "Lazy", I just snapped awake!!"), he did a very inspired and adventurous solo during "Speed King". The band left almost immediately, but a couple of the techs joined us (the editors, Rich & Julie, and a couple of fans from the alt.music.deep-purple newsgroup) to unwind after having packed up. After a few hours of tales from the road from Matt and Skoots (who had already worked with Steve Morse back in the Dixie Dregs days), it was very late when we finally broke up. We headed for a late meal at Burger King before turning in at the Red Roof Inn. Svante however didn't find too much rest as the room next to his had been rented by an apparently very active young couple!
August 8 - 1998
[Phrase of the moment: "OK, where the hell did the highway vanish to this time?!?" - said every five minutes or so trying to get through Providence and to Rich's home just across the border in Massachusetts, a 20 minute trip that took almost two hours.]
It was on our way to Mansfield, MA the next noon that we got sidetracked. We'd spent an hour in the morning looking for a breakfast place in Hartford, only to wind up back at our starting point having made a huge circle; accepting the inevitability of fate, we gave up and headed off without eating. A few hours later, Ed was telling a very fascinating story from his youth (you better ask him!), when we spotted the first restaurant we'd seen all day, and, ravenous, we chose to have our combined breakfast and lunch there.
By this time, we'd obviously already spent a good deal of time together, but as we were constantly on the move, conversation had naturally only revolved around the events at hand. The lunch was a welcome opportunity to chat and learn other sides of my travelling companions and a wonderful hour and a half was spent munching the delicious local food and just hanging out.
But we were late, and getting lost several times in and beyond Providence, RI didn't help either! Rich Shailor had set up a pre-show meet at a local Mansfield bar and announced it on the internet. We missed the cold beers he'd put in the fridge for us at home, but managed the bar on time thanks to a very detailed set of directions we found taped to his front door.
Shortly after we arrived, people began gathering at the bar en masse. There was quite a selection of Purple related tour shirts on display - I guess the bartender was wondering what had happened to his nice establishment!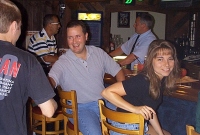 Rich & Julie - our Mansfield hosts
Rich had brought a box of DP goodies courtesy of CMC International, Deep Purple's US record company, to be given away in a competition during the afternoon. Unexpectedly, he announced that we, the Highway Star editors, would be the focus of this competition! If anyone could stump us with a Purple-related question they'd win a random item out of the box, which was brimming with promo singles, posters, tour books and other goodies. Fortunately everything was handed out before long - we might know a few things, but we certainly don't know everything!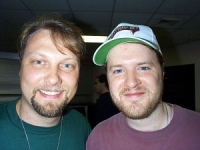 Ed Janx and Mark Roper, CMC
Mark Roper of CMC turned up a little later and it was indeed a very enjoyable afternoon: Loads of Purple chatter and a bit of food before leaving for the show. Huge thanks to Rich for setting it up.
Before the show, there was a bit of a party going on in the parking lot too - which continued with a vengeance onstage during the show. It was clear from the strength of the audience reaction right from the first song that we were in for a special night. Ian Gillan's excited comments to the crowd between the songs also indicated this; "You have it! You're laying a lot down here, means a lot to us!" And later: "Well, it's a little club we have here, a very intimate situation." Always a good sign when Ian starts talking about clubs and intimate surroundings - especially when in the middle of a cavernous "shed" - and it was a total joy to watch him completely unstoppable, ruling the stage in Mansfield. He was constantly smiling, interacting with different parts of the crowd, pulling silly faces, sticking his tongue out, screaming and making other verbal sounds of enthusiasm. In over 40 shows I have never seen him this fired up before - ever! Very soon I was wearing a grin so wide I just couldn't help it. When Ilooked around at Ed and Wolf it was obvious I wasn't imagining things, as they too were awe-struck by what they were experiencing. (Wolf said later that he was trembling so much he couldn't take pictures for the website). The audience was engulfed in Ian's highly contagious good mood and it spurred the rest of the band onto an even greater performance. This really was the heart of Deep Purple: A band where every member works in unison with the next to give his very best and thus achieve far greater things musically than would have been possible before.
Highlights from this concert include the stunning juxtaposition of contrasts that is "Watching The Sky"; the lines "I sit by the water, I watch it go by" always conjure up the images of those excellent Naked Thunder promo shots of Ian Gillan sitting by a little stream, looking very relaxed and thoughtful. This is balanced against the bit just before Steve's solo, where Ian goes over to stand next to him and scream "The madness and the fury and the madness and the fury and the eeeeeeeeaaouw!", his left hand's fingers snapping unendingly and his knees going up and down higher and higher as the excitement builds. It's extremely captivating to watch him give it all like this.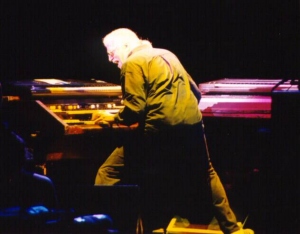 Jon Lord continued to shine like a diamond, not least during his solo in "Almost Human", building it to soaring heights before the riff kicked back in. His solo spot between "Smoke On The Water" and "Lazy" opened, unusually, with a long piano part with accompanying MIDI strings supporting its highly emotional theme. From there he went into a very beautiful and imaginative organ piece before getting funky together with Paicey for a prolonged blues work-out that eventually led into the "Lazy" riff. The song itself built upon that into an infectious swing that had all of us grooving along.
Then there was Jon and Steve's incredible dueling in "Speed King". Together they posses the ability to constantly evolve this bit, keep it enthusiastic, impressive and, above all, forever changing and taking new directions. Bewitching. At earlier gigs, Roger was often seen attempting a little solo before Paicey's solo, but never quite managing it. Not until Mansfield that is - the night where everyone got their money's worth of improvisation! And as if to prove this point, Gillan went into "Not Fade Away" and then "Mona" with such feverish strength it seemed he'd blow his bits (which, as it turned out, he also did). For his duel with Morse he introduced a new feature - the harmonica made a welcome appearance outside of "Lazy".
At the meet & greet after the show they were all brimming with joy and pride, Paicey dishing out imaginative jaw punches to familiar faces. Quite simply put, we'd witnessed a very special night!
Once again the band was soon whisked away in their bus, and as we'd missed dinner we ended up feasting on the food from the crew's leftover deli platters while chatting to Rob and Moray, the sound engineers.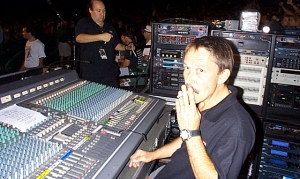 Moray The Engineer
The excellent sound at the Dio and Whitesnake shows Svante and I had seen in Denmark during 1997 had been courtesy of Moray. He's worked with Purple now for a few years, but worked a lot with Ronnie James Dio previously, going all the way back to the Sabbath days. Another interesting tidbit he told was how the tapes for "Live At The Olympia '96" were put through an echo chamber at Abbey Road Studios in London to give them a rougher live sound.
Afterwards it was time to say farewell to Rich & Julie, and thanks for a couple of wonderful nights. We nearly got lost again in our attempt to find the End Zone Motor Inn, as in a fit of craziness earlier in the evening we'd cancelled our reservation at a local hotel, expecting instead to return to Providence. Unfortunately. there was to be a NFL football game in nearby Foxborough (home of the New England Patriots) the next day, so by that time all the rooms in the area were already taken.
Frantically phoning every number in the AAA guidebook at 3am in the morning while careening around the dark Massachusetts countryside is an experience not enjoyed at the time - but it's probably character building! Moreover, the night clerk at the Endzone Inn wasn't much help over the phone as she was a complete road map illiterate and had to give us new directions three times as her previous ones got us totally lost! Arriving at a crazy hour in the morning, it didn't look like we'd be getting much sleep at all. Indeed, Ed (who now claims he was drunk!) was so tired he simply disappeared without anyone noticing him leave for his room, and when he didn't turn up for breakfast the next morning we got a bit worried.