Current Tour
Latest reviews
Older Tours...
Tours 2005
Scandinavia plus
North America summer
Tours 2004
UK 2004
Russia & Ukraine
North America 2
Europe
Down Under
Asia
North America 1
Tours 2003
Europe
South America & Mexico
Ripening Tour part 2
Ripening Tour part 1
Tours 2002
Andrew Summerhayes' 31 years of DP
Solo shows: Paice, Glover, Lord
UK (rescheduled) + CH, Dubai, Greece
Germany
USA, part 2
USA, part 1
Asia
Russia, Ukraine & The Baltics
Ireland & UK
Tours 2001
Paice and York
Europe
North America
Australia, Japan, India
Concerto Tour 1999-2000
South America & Europe
Royal Albert Hall 1999
A.Band.On.Tour 1998-2000
1 - Europe-1 98
2 - USA 98
2a - Editor's Tour Special
3 - UK & Europe-2 98
4 - South America, Australia, Asia 99
5 - Europe-3 99
6 - Japan, Finland, Greece, etc 2000
Purpendicular Tours 1996-1997
UK, Europe-1 96
Europe-2 96
Europe-3, Japan 96
North America 96
South America 97
Europe-4 & Canada 97
House of Blues, USA 97-98
Ian Paice clinics UK 98
Much older tours...
1968-1995

UK 2002
(rescheduled)
plus Switzerland, Dubai & Greece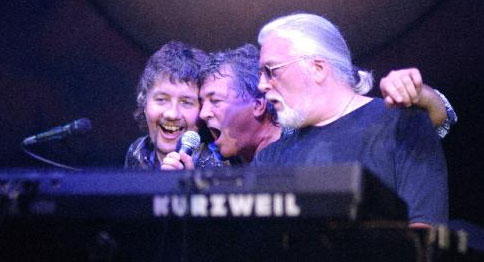 "Smooooke on the water..." Don Airey, Ian Gillan and Jon Lord - London 2002
To make up for cancelled UK shows in February and March, Deep Purple put on some spellbinding shows across the UK. With breath taking energy and in excellent shape they featured old friend Jon Lord, who appeared for the very last time with Deep Purple at a gut wrenching show in Ipswich on September 19.
But life goes on, and the band finished four years of touring the globe by making their way to the United Arab Emirates via Switzerland to end up at two shows in Athens, Greece.
Please send us your review
The small print: No attached Word files, include your full name and email address. We cannot promise to publish every review and re-submitting definitely doesn't help.
Thanks to Bruce Payne for this photo from London Sep 6. If you want your concert photos on The Highway Star, please send them to Svante Pettersson.
Rasmus Heide, reviews editor
* include setlists - possibly unconfirmed.
This page last updated: September 30, 2002 (111 reviews & new photos)
UK 2002 (rescheduled)

September 6, 2002 - Hammersmith Apollo, London

Debbie Harris
Mark Taylor*
Cathy Ives
Elisabetta
Gene Boris
Terje Winther

Ian Nichols
Dave Lomax
Steve Evans
Garry Smith*
Dirk de Hen
Sibel Yýldýran

September 7, 2002 - Hammersmith Apollo, London

Garry Smith*
Peter Mair
David Meadows
Stacie Samm
Dirk de Hen
Terje Winther

Timothy Anderson [w/photos]
Russ Thorndike
Gene Boris
Ian & Lorraine Surridge*
Lars Wortmann*
Sibel Yýldýran

September 8, 2002 - Barbican Centre, York

September 9, 2002 - St. George's Hall, Bradford

September 11, 2002 - City Hall, Newcastle

Paul Barrow*
David Meadows
Nick Naylor*
Colin Dickson
Brian Cizakowsky

September 12, 2002 - Clyde Auditorium, Glasgow

Steve Marshall*
Stuart Tait
Robert B. Brown*
John Gregson
Kevin Dixon

September 14, 2002 - NEC, Birmingham

September 15, 2002 - Guildhall, Portsmouth

Geoff Quade
Adrian Marsh*
Ray Oates [w/photos]
Peter Stokes
Kurt N

Craig Storey
Simon Smith & Rosie Kuropka
Dave Paul
Simon A Meeklah
Adrian Starks

September 17, 2002 - Pavillions, Plymouth

September 18, 2002 - Colston Hall, Bristol

Bernie Marsden [w/photos]
Aidan Naughton
David Smale
Andy Fox

September 19, 2002 - Regent Theatre, Ipswich
Jon Lord's last

Rasmus Heide* [w/photos]
Ian Nichols
Jack Taylor
Arthur Smith
Fedor de Lange

Final bits 2002

September 21, 2002 - Oktoberfest, Schupfart, Switzerland

September 22, 2002 - Aviation Club, Dubai, United Arab Emirates

Geoff Stout
Sue Evans
Debbie Pereira
Gulf News [press conference & photo]
Ali Abbas Sikander
Meher Murshed

Reuben S. Andrews
Ashley & Iona
Farah J. Tamer
Rob Williamson
Nick Kettle [w/fan photos]
Gulf News [review & photos]

September 24, 2002 - Lycabettus Theatre, Athens, Greece

September 25, 2002 - Lycabettus Theatre, Athens, Greece