Ipswich Sep 19, 2002
Remember the good times
- So, who cried?
The question is asked just after midnight in an Ipswich hotel room where eight Deep Purple fans of five different nationalities are sharing an emotional nightcap. We have all made our way to this sleepy English coastal town to catch Jon Lord's final show with Deep Purple - and we all nod, everyone had cried.
Deep Purple is a passion and a love, ingrained since our teenage years, so when one crucial, lovable and highly revered band member chooses to bid a final farewell, we treat it like losing a member of the family. Fans congregate to help make his send-off as memorable and special as possible.
Opening as per usual for this tour with an exploding Fireball, the band is off to a good start. The show is sold out, and the venue crammed to the rafters with buzzing fans. Many have travelled from afar to witness the occasion - some have even seen most of the preceeding tour as well. Demand for the alotted number of guest tickets in Ipswich is at least three times the actual supply.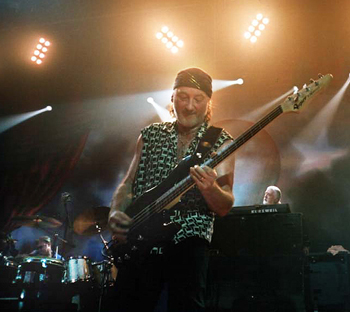 The first half of the set is pretty much per the band's usual high standard. Mary Long sees Ian Gillan again delivering every word as phonetically and emphatically close to the original as humanely possible. The spark and the enthusiasm is there and we're all invited to the great Deep Purple party.
One song that sticks out is The Well Dressed Guitar. How do I explain this respectfully? Even allowing for new members adding new colours to the Purple spectrum, this song, with it's almost autopilot rhythm section arrangement (what a waste) and speedy guitar patterns, sounds more like a guitar work-out/warm-up than a Deep Purple song. Where's Up The Wall when you most want it?
Before leaving the stage to let Don entertain us with his brilliant solo spot (which includes a rare outing of Weiss Heim, the Rainbow instrumental), Ian Gillan informs us that on a space shuttle scheduled to be launched from Cape Canaveral just before christmas, the astronauts will be using Space Truckin' for their wake up call. This receives a cheer and Ian signs off with a combined shrug and proud facial expression as if to cheekily say "Well, what do you know!"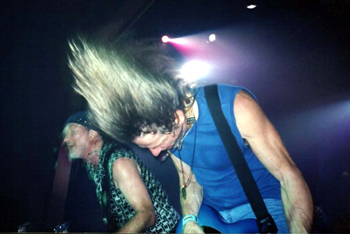 A slightly altered set list puts Jon Lord on the keyboards for When A Blind Man Cries (thus turning 'Nice one, Don' into 'Nice one, Jon' after the solo). I noticed the song had not yet been played when Don started his solo spot and figured something was up.
The end moves irreversibly closer as Jon mesmerises us with a spine tingling piano opening to When A Blind Man Cries. It includes familiar snatches of Pictured Within and the second movement of the Concerto, all appreciatively acknowledged by the crowd. This one-off feature is the show's first defining moment and it brings home the importance of the night. Even though Steve grabs the opportunity to further extend the intro (why??), it also sets the mood of the evening perfectly.
Emotions are running high onstage, and Jon treats us to (a final) mind blowing Speed King duel with Steve Morse. It could have gone on forever (please!), but Steve jumps onto the keyboard podium next to Jon and together they increase the intensity to ridiculous speeds and finish off the duel. They smile, shake hands and hug while the spotligth slowly turns to first Roger's then Paicey's solo. As Jon Lord's brother-in-law Paicey perhaps feels Jon's departure from the band more than most. He puts in a solo that just will not ever stop. Eventually it does though, and even people in the audience are left sweating from it.
For the encores Jon Lord fully seizes the moment and stretches out his solo in Hush to include an exciting impromptu mini-jam of the kind which only makes you love the man even more. The breath taking solo is the second defining moment of the show and the playfulness is as infectious as ever.
Airey then takes care of Black Night. It's not his night, but he delivers and deserves all the mention he can get. Next, Jon Lord returns for Highway Star, the final song of the final show of the final tour. It's too much to bear. Embracing band members at various points during his time onstage, using little 'cheer-up' nods and winks to clear the eyes of tears welling up, it is obvious that Jon is savouring the moments, enjoying himself immensely (with plenty of musical excellence as a result), but also very much feeling the emotional weight of the occasion.
With eyes fixed firmly on him during Highway Star, the song flies by in an instant that seems to take forever - until I realise it's over much too soon. Jon exudes a confidence and an eagerness to keep playing that is a joy to behold - had it not been for the heart breaking knowledge that in a mere couple of minutes it will all be over.
At one point it looks as if Jon is trying to lure Mickey Lee Soule onto the podium to join himself and Airey on the keyboards, possibly subconsciously looking for support to take him through the moment. Earlier Mickey had provided beers for the three of them and they'd all had a toast by the Hammond during the singalong in Smoke On The Water.
Big boys aren't supposed to cry, but if Jon can do it, then we all can. When Highway Star ends - with a reluctant Ian Paice giving it just a few more moments to run aground - I'm not the only one wiping his cheeks. Moving forward a few paces I find myself at the edge of the stage in the middle of a sea of chanting fans: "Jon! Jon! Jon! Jon! Jon! ..."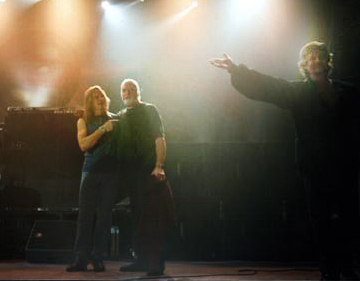 On the stage, the band is hugging each other, shaking hands and exchanging kisses to cheeks.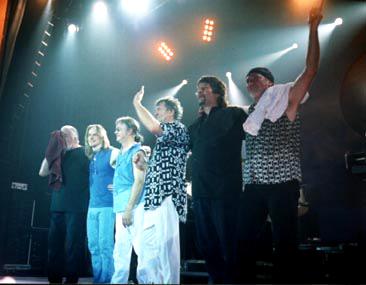 After a six-man full line-up bow along the front of the stage, the rest of the guys gently usher Jon Lord forwards. Standing in a line, arms linked, they all point to him as he - visibly humbled and in distress - makes his way slowly along the edge of the stage, bowing, smiling, crying, shaking as many hands as possible and waving to those further back. At the same time, applause, acclaim, admiration, respect and a thousand desperately inadequate thank yous pour over him from the theatre.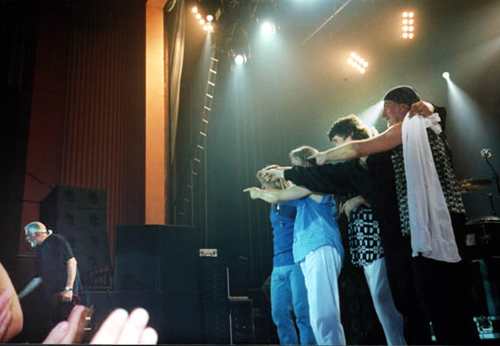 Dignified to the very end, standing under white spotlights in front of the Hammond, he takes one final look at the wave of emotion in front of him, expends a final bow and with a salute turns around and walks away.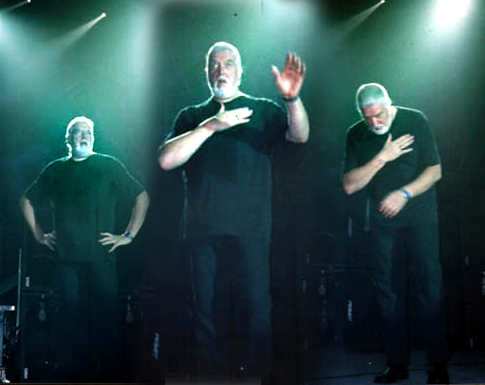 House lights go up, some music is being played over the PA. Bewildered, exhausted, drained and unaccustomed with this kind of emotional turmoil at a Deep Purple show, we stand around near the stage for a while, looking at each other, unable to reasonably comment what has just passed before our eyes. In an attempt to seek consolation I pat someone's back, maybe it is Stathis'.
At the unusually subdued after show 'party' Ian Gillan thanks fans for turning up to see the last show with Jon Lord. Roger Glover expresses sadness, but a happy kind of sadness, and poignantly points out how this is probably the first time a Deep Purple member leaves the band on good terms with the remaining members. It obviously speaks volumes of Jon's standing among his band mates that he has been afforded this opportunity to bid a proper farewell. Although it seems as natural as anything, it was in fact a hitherto unthinkable idea in Deep Purple.
Back at the hotel we agree it's been a fantastic tour. The band has had their eyes firmly fixed on delivering as many punches as possible every night and nigh on no one seems to have come away disappointed. It has been heart warming to witness the high number of very young fans at the shows - and not all of them just there with their parents.
Endless praise is due to Don Airey for temporarily stepping down to allow Jon Lord the room to appear again with Deep Purple. He's a greater man for having agreed to this and I certainly look forward to his input into a new Deep Purple sound.
The set:
Fireball ~ Into The Fire riff
Woman From Tokyo
Mary Long
Ted The Mechanic
Lazy
The Well Dressed Guitar
Space Truckin'
Don Airey's solo
Perfect Strangers (w/Lord)
Jon Lord's solo (incl. Pictured Within, Concerto second movement)
When A Blind Man Cries (w/Lord)
Speed King (w/Lord)
Smoke On The Water (w/Lord & Airey)
Hush (w/Lord)
Black Night
Highway Star (w/Lord & Airey)
The 'good to see you again' bit: Stathis, Mikael, Akiko, Nigel, madman Mash and his missus-to-be, mr Richards, Fedor (who mysteriously disappeared as we were getting ready to celebrate his 30th!), the Smethursts, Christer, Sybille, Margaret, mr Meadows, Darren, Ann W. and Simon Robinson, who deserves a special medal for being his own inimitable self. Hopefully next time we all meet, it'll be to enjoy a blistering new Deep Purple, brimming with fresh ideas and revitalised material.
One final impression from Ipswich. After Jon has said his farewells to the rest of the band at the back of the Regent Theatre, a group of fans scattered in the street watch him get into the car in which he will effectively leave Deep Purple. Before he closes the door, a round of spontaneous applause spreads to send him off. It's been a good night and Jon got the farewell he deserved.
All photos on this page kindly provided by Stathis Panagiotopoulus