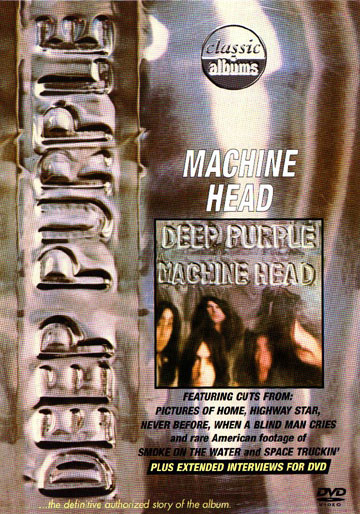 A retrospective documentary telling the incredible story of the making of Deep Purple's most popular studio album, Machine Head.
This DVD is part of a series titled Classic Albums, where earlier installments have included albums by Judas Priest, Iron Maiden and others. They all offered a thorough dissection of each album with original band members called in for detailed interviews about the recording sessions.
For this release, all of Deep Purple Mark 2 participated in exclusive interviews. Ritchie Blackmore, Jon Lord and Roger Glover demonstrate riffs and licks from the songs (Ritchie on acoustic guitar) and explain the genesis of the songwriting. Original engineer Martin Birch and Roger Glover lead us through the original multitrack tapes. Ian Gillan and Ian Paice are also on hand for a track by track look at the making of the album.
Featured songs include Highway Star, Smoke On The Water, Space Truckin', Never Before, Picture Of Home and bonus tracks When A Blind Man Cries and Black Night. The DVD includes bonus material extra to the TV edition (shown in the UK on November 27, 2002), including live footage from Hofstra University New York 1973, which has received this accolade from Roger Glover: "Great stuff." Of all people, he should know...
Also available here is Roger Glover's account of the fire at the Casino that spawned the words for Smoke On The Water.
Thanks to Russell Wagus for the scanning job
This special last updated April 30, 2003