Current Tour
Latest reviews
Older Tours...
Tours 2005
Scandinavia plus
North America summer
Tours 2004
UK 2004
Russia & Ukraine
North America 2
Europe
Down Under
Asia
North America 1
Tours 2003
Europe
South America & Mexico
Ripening Tour part 2
Ripening Tour part 1
Tours 2002
Andrew Summerhayes' 31 years of DP
Solo shows: Paice, Glover, Lord
UK (rescheduled) + CH, Dubai, Greece
Germany
USA, part 2
USA, part 1
Asia
Russia, Ukraine & The Baltics
Ireland & UK
Tours 2001
Paice and York
Europe
North America
Australia, Japan, India
Concerto Tour 1999-2000
South America & Europe
Royal Albert Hall 1999
A.Band.On.Tour 1998-2000
1 - Europe-1 98
2 - USA 98
2a - Editor's Tour Special
3 - UK & Europe-2 98
4 - South America, Australia, Asia 99
5 - Europe-3 99
6 - Japan, Finland, Greece, etc 2000
Purpendicular Tours 1996-1997
UK, Europe-1 96
Europe-2 96
Europe-3, Japan 96
North America 96
South America 97
Europe-4 & Canada 97
House of Blues, USA 97-98
Ian Paice clinics UK 98
Much older tours...
1968-1995

Asia 2002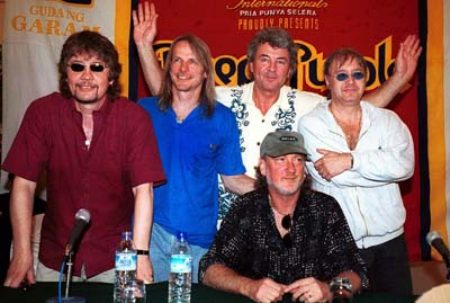 Looking for Mitzi Dupree - "We're over here," says Ian Gillan.
Deep Purple have been back to the Far East, visiting countries the band last toured with Mark 4 in 1975. Tell us what you think about the shows. Send us your reviews. (No attached Word files, and remember to include your full name and email address.) Please be patient if your review does not appear on the site right away. Re-sending does not help..
See photos from the tour. Thanks to Zarqoni for this photo from the press conference in Jakarta 2002. If you want your concert photos on The Highway Star, please send them to Svante Pettersson only
Rasmus Heide, reviews editor
* include setlists - possibly unconfirmed.
This page last updated: May 24, 2002 (24 reviews + photos)
Asia 2002

Rod Laver Arena, Melbourne, AUS
April 26, 2002 - CANCELLED
Plenary Hall, Jakarta Convention Centre, Jakarta, Indonesia
April 30, 2002
Bandra-Kurla Complex, Mumbai (Bombay), India
May 3, 2002
Panjim Gymkana Complex, Goa, India
May 5, 2002
Impact Arena, Muang Thong Thani, Bangkok, Thailand
May 7, 2002
Fort Canning Park, Singapore, Singapore
May 9, 2002

Alastair Johnson*
Luke Chen*
Han Chiaw Juan
Kikko Okaguchi
Martin Witteveen
Zahara Wan

Hugh Brideson
Faiz*
Khalid Jamlus
Bill Bradbury*
Ian De Cotta
Charles Woo Khee Tat*
Taiwan
May 11, 2002 - CANCELLED