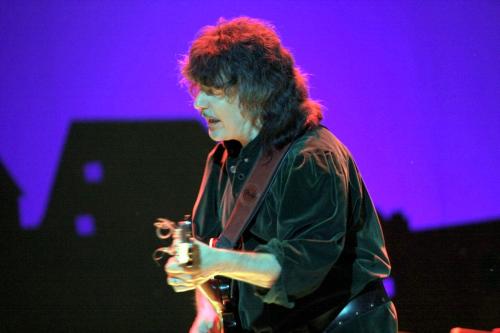 A couple of new interviews with Blackmore's Night.
Greg Prato (of the Tommy Bolin biography fame) has conducted a short but rather interesting interview with Ritchie and Candice:
UGO: Ritchie, what is your favorite Deep Purple album and Rainbow album, and why?

RITCHIE BLACKMORE: I don't know, it was too long ago and I don't listen to records that I have recorded.

UGO: Ritchie, would you consider playing with Purple one last time if the band was voted into the Rock and Roll Hall of Fame?

RITCHIE BLACKMORE: I wouldn't consider playing with them although I haven't really thought about it. As far as the Rock and Roll Hall of Fame goes there are too many people that have been voted in there that have absolutely nothing to do with Rock and Roll for it to mean anything to me. Besides it's too pretentious.
Read more on UGO.com (if the interview doesn't show right away, you'll have to click on the orange 'continue to UGO' button).
Another short interview appears in the online edition of the Boston Herald:
I didn't embark on this project intending it to be successful. I just have an incredible passion for this kind of music and wanted to do it. During my final days in Deep Purple and Rainbow, I felt I was getting stale at writing hard-rock riffs, that I was repeating myself, and I just couldn't stand it. So switching to this was rejuvenating, very refreshing.
Bob Dylan has always been one of my heroes because he's never wanted to deal with the nonsense side of the music business. Having to follow this trend, talk to this person on the radio, be on this show. I find it's very hard for me to do. I don't like having to sell myself constantly.
Thanks to Greg Prato and BraveWords for the info.