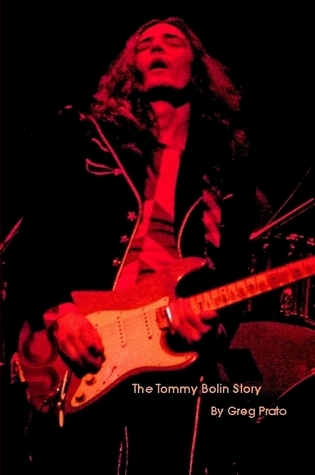 Touched by Magic: The Tommy Bolin Story is the new book written and published by Greg Prato.
To many, Tommy Bolin was the legitimate heir to Jimi Hendrix's rock guitar throne. Stints with the James Gang and Deep Purple –- as well as solo albums and a groundbreaking release with jazz-rocker Billy Cobham –- certainly proved that the adulation was rightly deserved. And with a techno-color fashion sense, he certainly stood out from the pack. Only one problem, Tommy had a death-defying drug addiction, which ultimately would lead to a premature and tragic end – before he was able to truly take his standing among the elite musicians of the world. 'Touched by Magic: The Tommy Bolin Story' is the first book to focus entirely on the life story of Tommy Bolin – compiled from nearly 50 exclusive interviews (including family, friends, and band members that played alongside Tommy throughout the years).

"After reading 'Touched by Magic,' it seemed to me every interview 'takes you there' for the moment…I give 105 stars to Greg!" -Johnnie Bolin, Tommy's brother
The book is available through lulu.com, where you can sample a chapter (conveniently for our readers, the chapter is about Tommy joining Purple and recording Come Taste The Band and Teaser). If the sample is any indication, the book does not have written narration, but is purely a compilation of quotes from the interviews arranged to form a more or less cohesive story line. It's a rather unusual technique for a book, but it seems to work once you have sufficient background into what's happening (which majority of Purple fans should already have). But I wouldn't recommend it as an introductory Bolin's biography.
Greg Prato will be a guest on the Stormin' Norman show on Kansas City radio KKFI 90.1 FM on Monday, December 22. They will be discussing the book. Immediately following Greg, there will be special call in guest John Bartle, who shared friendship with Bolin. John will be discussing his memories of Tommy, the new book, and a whole lot more. The show starts at 7 am central time.
Thanks to Blabbermouth and Trace for the info.