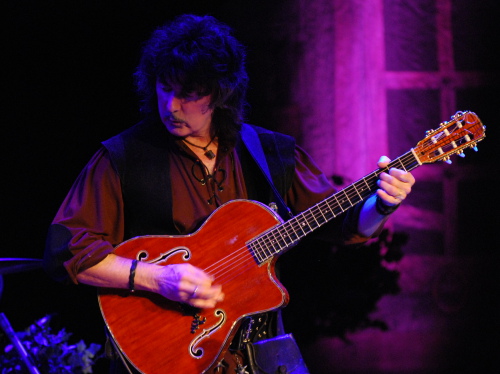 Ritchie Blackmore and Candice Night were interviewed for the European edition of Newsweek. This being a very mainstream publication, the interview may sound a bit superficial to a trained ear (we all could probably do without yet another retelling of the gambling house burning down story). There are still interesting bits and pieces, nevertheless.
When you reformed Rainbow for the shows last June, were you disappointed that you weren't able to invite original singer Ronnie James Dio, who died in 2010?
I hate to say it, but no, I wasn't. I'd finished with Ronnie a long time ago, and we kept in touch now and again but I went on to other things and he was in other things. We kept it very convivial and that, but I think neither one of us really wanted to get back together. He's a strong alpha male, and so am I; he wanted to go one way, I wanted to go the other.
Speaking of burning something, you set an amp on fire while performing with Deep Purple at the California Jam in 1974.
That's right. That was part of our more-musical moments.

What was it like performing to nearly 300,000 people?
The obvious thing was it was nice for the ego. We had to get flown in by helicopter because there was traffic jams all over California to get there. But I'm always weary of doing outside venues with other big bands because there's a lot of sabotage, believe it or not. It was an old trick to sabotage the other band by taking out half the P.A., but invariably it was the road crew, not the band. We had it done to us so many times, I would always go up the side of the stage and actually listen to each speaker to make sure we had a sound coming out.

Deep Purple co-headlined Cal Jam with Emerson, Lake and Palmer. What do you remember about the late Keith Emerson?
I always loved watching Keith perform. I was a big fan of the Nice [the group Emerson was in before joining ELP]. We used to play the rounds together back in '68, '69. To me, he was one of the best showmen and players. A very nice guy. I always liked watching him. Some of the favorite frontmen would be Freddie Mercury [of Queen], Ian Anderson [of Jethro Tull], obviously Jimi Hendrix and Keith Emerson. People like that were so good at doing the show as well as playing the music.
You can read more in Newsweek.
Thanks to BraveWords for the info.