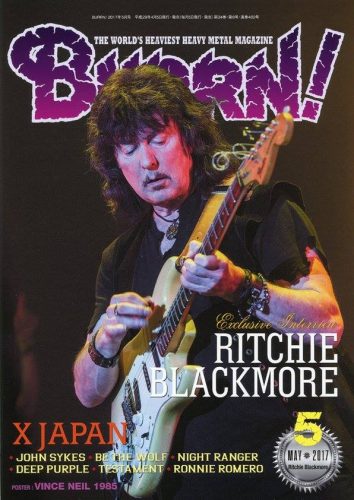 May 2017 issue of Burrn! magazine in Japan features Ritchie Blackmore on the cover and a 14 page feature inside, including interview with him and Candice. Here are the more interesting bits of what they've said. Customary caveat: this is in reverse translation from Japanese.
On recording new material:
Burrn: We understand you were recording some material in the studio.
Ritchie: We were recording until yesterday in the studio at our home. We finished yesterday. We recorded some songs for Blackmore's Night and 2 songs with the new singer for Rainbow.
B: Do you have any plans for release?
R: No
Candice: It first started as a 20th anniversary thing for Blackmore's Night, re-recording some old material, but we came up with new songs. We have no plans for release right now, we were just having fun, but we may release when the right time comes but not right now.
On being a father:
R: I cannot believe I am playing the father's role. Our children are very "natural" and tell you the naked truth. Rather than make me mad, it makes me laugh. Especially Autumn, she makes me laugh all the time, she is a natural comedienne. Although I try not to laugh more than 5 times a year, I could break that rule in one day.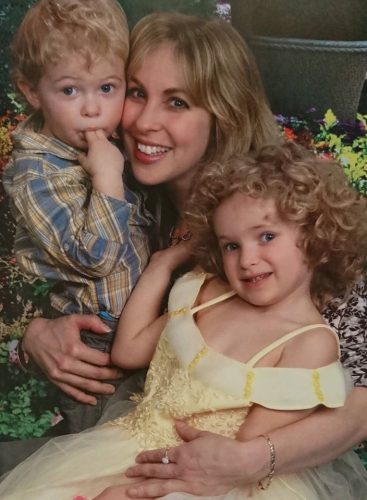 On Rainbow in Japan:
B: You know we are waiting for you and Rainbow is very popular in Japan. Rainbow's Memories in Rock won the Gold Disk Award in the DVD division, which is like the Grammies in Japan.
R: You mean no other DVDs were released in Japan?
On Ronnie Romero:
R: When I heard him, he seemed like the right guy to sing the Dio era songs of Rainbow. He is versatile, he can sing like Freddie Mercury or Ronnie James Dio or Graham Bonnet. The reason I did not ask Joe Lynn Turner is because I thought European fans wanted to hear the Dio lineup of Rainbow. I was very surprised that tickets sold out in 15 minutes. It was nice to know so many people wanted to hear Rainbow at this time.
B: Is Ronnie Romero the new singer you mentioned earlier?
R: Yes, I wrote one new song, and also recorded one of the old ones. Ronnie, who is in Madrid now, added his vocals and sent it back. Rather than make an album, we may release as singles.
On Bob Dylan:
R: I thought it was about time he got an award. I believe there are two geniuses in the US, one is Bob Dylan and the other is Billy Joel. I appreciate anyone that recognizes Bob Dylan.
Special thanks to Akemi Ono for the info and translation.