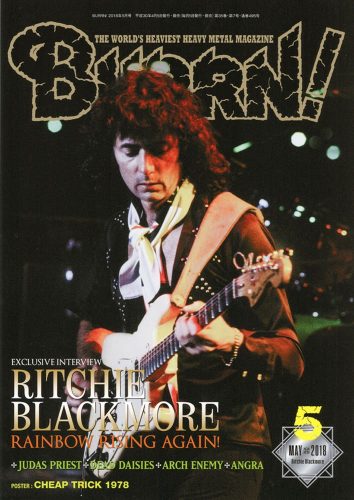 May 2018 issue of Burrn! magazine carries an exclusive 12-page interview with Ritchie Blackmore, conducted by editor-in-chief Kaz Hirose. Below are a few of the more interesting tidbits translated back into English courtesy of our Japanese correspondent Akemi Ono.
On coming to Japan:
Burrn!: This year Rainbow is doing shows in places where you have not played before, Russia, Finland, Czechoslovakia. You wish to play where you have not done the new Rainbow line-up?
Ritchie: Well, I don't like to travel, but I have been to Russia before, and I like borscht, the famous Russian soup.

B: What about Japan?
R: I thought about it when Mr. Udo invited us, but it's too far. I don't like flying long distances.

B: How about via Hawaii or California?
R: I've lived in California for about 3 years, I didn't like living in Hollywood. Everyone is a rock star or a movie star and seeing a psychiatrist.

B: Japan really wants you to come.
R: Yes, I understand. If I go, it will be through Mr. Udo. I have known him for a very long time — about 200 years probably.
Ritchie's comments on the tunes played by the current line-up:
Spotlight Kid: First I thought this was a meaningless song, just being played up-tempo. So I asked Don Airey whether he thought there was anything good about this tune. Don answered that since we have it, we should nurture it. Later on I took a liking for it.
I Surrender: This is a very difficult tune, especially since we have changed the key from G to F#. I need to concentrate very much.
Mistreated: I like to play this tune. David Coverdale did a great interpretation.
Man on the Silver Mountain: I also like to play this tune, but none of us know what this title really means. Only Ronnie James Dio knows. People tend to read into song titles. Like Speed King. When Deep Purple played in the US, people thought it was about drugs, but it was only about driving fast.
Soldier of Fortune: I requested this as I wanted to play the acoustic guitar. This is a great song. David wrote the first half and I wrote the second half. He wrote the first half on the piano and said he did not know where to go with it, so I made suggestions. It is nice to write and arrange a song 50/50.
Child in Time: One of my favorites, although we did not play in Deep Purple so much as Ian Gillan did not want do it on stage very frequently.
Long Live Rock'n Roll: This was a rare case where I was involved in writing the lyrics. I told Ronnie that the riff sounded like "Long Live Rock'n Roll" to me. I told him he could change it, but we ended up staying with it.
Smoke on the Water: Once I asked Ian Anderson which tune he does not enjoy playing, and he said "Aqualung", since if he does not play it, everyone wants to hear it. Smoke on the Water is a tune everyone expects me to play, but fortunately it is a good song.
On tunes that have not been played:
Kill the King: I'm probably not playing it since it sounds too much like Spotlight Kid. If there is one song that we have not played and we may, it's Self Portrait.
Gates of Babylon: It's difficult to play the riffs. There is a lot of editing in the recording, and it's difficult to play live.
Other questions:
B: Would you like to record a whole album with the current line-up?
R: There is a possibility, but I do not want to make an album with only re-makes of old tunes. Maybe something like 2 new songs, and 2 previous songs. That could be an idea.

B: Which are your favorite Rainbow tunes? I think Street of Dreams is unique and a great Rainbow song.
R: Yes, that is definitely one of my favorites. Joe did a great version. That may be one of the ideas to work on, or maybe not.

B: Do you still make songs with Candice?
R: Not really. We were too busy in the past, so we are taking some time off. She is also busy with the children.

B: Will you do shows in the US?
R: Probably not, although there were some ideas going around. If we do, probably one or two shows only. And not in California.

B: NY?
R: NY or Connecticut, if we ever get around to it.