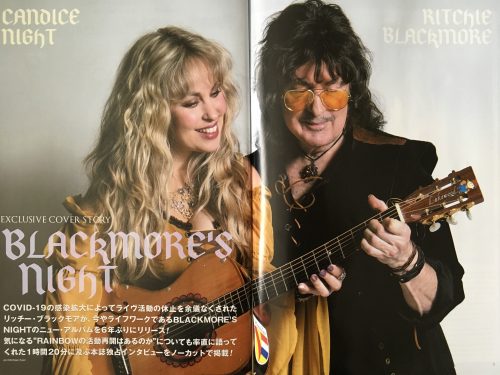 April 2021 issue of Burrn! magazine features Bladckmore's Night as a cover story, with an interview inside. Akemi Ono graciously offered reverse translation of the interview for the rest of us who don't speak Japanese.
---
Blackmore's Night will release their 11th album Nature's Light, on March 11 worldwide. Ritchie and Candice agreed to talk to us about the new album as well as the influence of the coronavirus and their future activities:
Burrn: How are you and your family doing? How is your area affected?
Ritchie: Covid started in China, but no one seems to know how it started. It is a strange situation.
B: How was your tour affected?
R: The last show we did was in Nuremberg, July 2019 (Long Island, November 2019 according to Burrn's records). That was the last show of the last tour. It was a very good show. Usually the last show is not good, but this tour was different.
Candice: We were supposed to do more shows in the US, but they were canceled due to Covid. But it was a good timing to go back into the studio. We had many recordings, including Christmas songs. It has been a strange time for Ritchie, since he was always touring since the age of 16. He probably never had the experience of resting at home for a full year. He does not enjoy traveling so much anymore, but he must miss the energy of the audience, and playing in front of them.
R: I certainly don't miss spending time in a hotel without enough sleep. You should bring a mask so that you don't get infected by Covid. Do you wear a mask?
B: Of course!
R: Good.
B: I saw your internet video, Vacuum and Dust with new lyrics to Joan Baez' Diamonds and Rust. You said you were inspired by David Coverdale?
C: Yes, we exchange emails a lot. We were discussing the pandemic, and he said all he wants to do is vacuuming and dusting since he cannot leave the house. We both thought this was like a title of a song. I asked if I could use it, and David said he was OK.
B: Have you always been touch with David?
C: David contacted us after Jon Lord passed away. I think we all realized that our lives will end some day, and we should restore what we can. David told us he is thankful to Ritchie for welcoming him to Deep Purple which also opened the door to Whitesnake.
R: It was actually Ian Paice who introduced David. Ian brought a cassette with David's recording and asked what we thought. That was the start. Ian discovered David.
B: You released a Christmas Carols EP last year. Can you tell us about the songs?
R: I always thought Silent Night was boring, but I heard Candice singing it in the shower. Her singing was the best I heard for the song, so we decided to include it. Her voice matches the song perfectly. Regarding O Little Town of Bethlehem, the American people sing it with a jazz-like tune, but we used the original tune from the 1400's, 1500's, so I think it sounds different. Of all Blackmore's Night albums, I like the Christmas Carols album the best. I am very attracted to Christmas carols, most of which were written in the 1500's to 1600's. I hate modernized Christmas songs like Rockin' Around the Christmas Tree or Santa's Comin' Down the Chimney.
C: Our daughter, Autumn sings in Silent Night. She can sing 3 octaves and can also play the guitar and cello.
B: Please tell us about the new album.
C: We were supposed to release it in 2019, but it was delayed due to Covid. We started recording in 2018. 2018 was a difficult year as Ritchie lost his brother, and I lost my father. We also lost our cat which we had for 16 years. It was difficult to be creative, but we found out that it was cathartic to reminisce positively about the people who left us and be use the energy to be creative.
R: Is there a word for cathartic in Japanese?
B: Yes, we use the word "catharsis". You included Wish You Were Here" from your debut album Shadow of the Moon.
R: Our debut album sold well only in Germany, but it is one of my favorite albums. I think people will like the song Wish You Were Here if they listened to it properly, and it could lead to a hit. I have confidence in that song. I think it is effective in many situations, like when you lost someone or cannot meet someone….
B: How is it different from the original?
R: The vocals are different. Candice's singing is more mature. We also added guitar parts.
B: Please comment on the other songs:
C: Once Upon a December was inspired by Owain Phyfe, whom we met at Arizona Renaissance Festival. He is a minstrel whom we invited to play at our wedding as well as tour with us. He sounds like Ian Anderson. He played a humorous Italian song Fuggi, Fuggi, Fuggi. We took the melody line from this song.
R: Feather in the Wind was composed using a mandola. There is a riff I used to play frequently, and Autumn would sing to it. I gave this riff to Candice, and she sprinkled fairy dust on it.
R: Darker Shades of Black (instrumental) is like my version of Procol Harum's A Whiter Shade of Pale. A typical downward chord progression which Bach might play.
C: The Twisted Oak is about finding your inner peace while walking amongst the trees. You can cleanse yourself from dust and everyday pressure by listening to and understanding the message with your heart and spirit.
R: Nature's Light is one of my favorite songs, especially the riff of the orchestra's brass section.
R: Der Lettzte Masketier is The Three Musketeers in German. I was in a three-piece band called The Three Musketeers in Germany in 1964. The other two members passed away, so I am paying my respects. They were very good friends. I could say I liked this band the most among the bands I have played in. It was not a huge success, there was not that much pressure, we just enjoyed the music and playing.
C: Both our children Autumn and Rory sing in Going to the Fair.
R: The melody from this song is from Tielman Susato's composition from the 1500's.
C: The Second Element is a song by Sarah Brightman. Ritchie's electric guitar is magnificent in this song!
R: I like the guitar in Darker Shades of Black better. It's all personal.
B: Which Blackmore's Night album do you like best?
R: The Christmas Carols one.
C: That's difficult. I do like Secret Voyage. I would say that and Nature's Light.
B: Do you have anything planned for 2021?
R: It depends on what the government allows. I think there are fake stories around Covid. I hope the truth comes out and that all bands can play again.
B: Will you do any on-line work again?
C: We are exploring what we can do. I think Ritchie prefers to do something with other band members as well, not just acoustic with myself.
B: Would you have done Blackmore's Rainbow again if it were not for Covid?
R: I was very satisfied with what I had done so far. I would have gone to Japan, if it were closer. Before I play for Rainbow, I need to have shots on my back because I have back and lower back problems. I cannot carry the heavy Stratocaster without the shots.
B: Will you play Rainbow with Ronnie Romero again after Covid?
R: I would like to keep it as a surprise. Just go day by day. I don't want to plan ahead too much, although I know people around me want to.
B: Will you release new music as Rainbow?
R: No, that idea is not exciting. It feels like I am going backwards. I want to progress to the future with 1500's music.