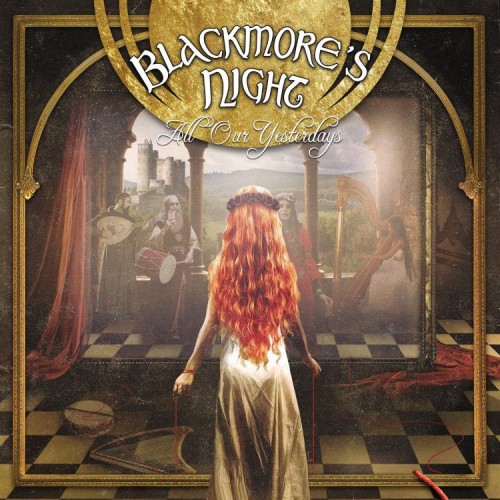 Blackmore's Night will release their new album — All Our Yesterdays — this Fall via Frontiers Records. It will come in a variety of formats:
standalone CD
digital download
CD/DVD Deluxe edition: includes full album on CD, and a DVD with music videos for the title track and Will O' The Wisp, plus an extensive interview with Ritchie Blackmore and Candice Night on the making of the album;
2LP vinyl edition with gatefold sleeve
Box Set Limited Collector's edition: includes CD/DVD deluxe edition, 2LP, a t-shirt (L size only), a poster, and a lithograph.
CD, CD/DVD and digital downloads will be released on September 18, with LP and box set to follow on October 16.
Press release blurb continues:
BLACKMORE'S NIGHT vocalist and multi-instrumentalist Candice Night says: "There's a theme to 'All Our Yesterdays" chosen songs that focuses on the attitude of living in the present, and looking toward the future, because we are, indeed, enriched by our past. My main theme and inspiration has always been nature and folklore from around the world."

Candice Night and Ritchie Blackmore's lives and creative journeys have taken them through different characters and songs from a variety of times in history. That is part of the attitude in the song "Where Are We Going from Here", about a traveling minstrel's journey through life and age.

The title track (and also the first single and video), "All Our Yesterdays", echoes the sounds of Candice's Russian roots, while a new song written by Germany's George Hesse is an old-style, fiddle-driven instrumental with the Welsh title "Allan yn y Fan" (meaning "Out There"). Ritchie's heritage includes family from Wales.

The album also includes stunning instrumentals: the acoustic guitar piece "Queen's Lament" and the dramatic "The Darker Shade of Black" that spotlights violin and guitar.

Elsewhere on the recording, "Earth Wind and Sky" is a delicate ode to nature. "The Other Side", a latter-day folk dance joins two jigs that Candice sings: "Coming Home" and the supernatural-themed "Will o' the Wisp".

"All Our Yesterdays" gets further inspiration from Candice and Ritchie's home town, where they take part in community folk nights during which the neighbours share guitars and songs, and sing melodies that have come from a variety of times in their own history. That's how they fell in love with songs of various radio formats of years gone by. The album includes the Linda Ronstadt hit "Long Long Time" (penned by Gary White); the Mike Oldfield song "Moonlight Shadow"; and an inspiring Maypole Dance treatment of Sonny & Cher's "I Got You Babe".
Thanks to Blabbermouth for the info.