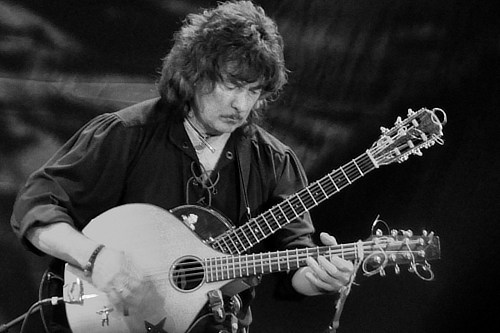 Ritchie Blackmore and Candice Night gave an interview to Noisey. In which Ritchie, like many times before, professed his aversion to noise. But that is not new. The new (and more interesting) bits are:
When I first heard 'All Our Yesterdays' [covered on the new Blackmore's Night album — THS] I thought of some of the people you have lost recently including Ronnie James Dio.
Ritchie: Yes, Ronnie Dio. I had not seen him in 30 years, so it was kind of like an old friend that I knew a long time ago. So it didn't [impact me] as much as Jon Lord's passing; he and I put Purple together… Ronnie was a good friend of mine in the beginning. Although I ended with Ronnie not as friends, we did some great music together. And he was very serious, great singer and musician. Sometimes I would ask him, "What are you hearing in this riff?" I would sing it to him very quietly, and he would grasp it immediately and know exactly what I was talking about… He was very easy to work with as far as knowing how to sing and where to go.

I know you've said many things about Jon including 'Without Jon there would be no Deep Purple. What should people know about him on a personal level?
Ritchie: Jon was always a gentleman, sort of like Rex Harrison. Anyone who met him found him full of old-style charm.

Thinking of Jon, I must ask why you decided to do the Deep Purple and Rainbow dates now?
Ritchie: I turned 70. And arthritis is starting to set in. Jon's not around. So many others aren't around. You start to see your friends pass and just feel it's time to play some of the old songs. Nostalgia is a big reason to do it, but not the only reason.
Read more in Noisey.
Thanks to Blabbermouth for the info.