The upcoming Ritchie Blackmore documentary appears to have undergone a facelift — it has been retitled from the quirky Uneasy Rider — The Talented Mr. Blackmore to more pedestrian The Ritchie Blackmore Story and release date has been pushed back to November 6.
It will come out on DVD, Blu-ray and digital download.
The documentary (at least, the Japanese edition) will include fragments of the following:
Concerto for Group and Orchestra (London, 1969)
Speed King (Beat Club, 1970)
Mandrake Root (French TV, 1970)
Child in Time (Granada TV, 1970)
Black Night (Live on TV, 1970)
Strange Kind of Woman (Live on TV, 1971)
Smoke on the Water (Hofstra, 1973)
Highway Star (Budokan, 1972)
Highway Star (Australia, 1984)
Space Truckin' (Denmark, 1972)
Space Truckin' (California Jam, 1974)
Mistreated (California Jam, 1974)
Burn (London, 1974)
Long Live Rock'n'Roll (Munich 1977)
16th Century Greensleeves (Munich 1977)
Do You Close Your Eyes (Munich 1977)
Gates of Babylon (promo, 1978)
Since You've Been Gone (promo, 1979)
All Night Long (promo, 1980)
All Night Long (Donington, 1980)
Difficult to Cure (promo, 1981)
Street of Dreams (promo, 1983)
Perfect Strangers (promo, 1984)
Call of the Wild (promo, 1987)
King of Dreams (promo, 1990)
Battle Rages On (Birmingham, 1993)
Black Masquerade (Dusseldorf, 1995)
Play Minstrel Play (promo?)
Renaissance Fair (promo?)
Fires at Midnight (promo?)
In addition, there will be a 2DVD+2CD deluxe edition. The extra material will be the subtly elusive Rainbow Budokan 1984 show — Live In Tokyo, which to the best of my knowledge have been previously released in full only in Japan on laserdisc. The second DVD, along with both CDs, will contain this last Rainbow performance from March 14, 1984, right before the Purple reunion.
Live In Tokyo track list:
Intro Medley
Spotlight Kid
Miss Mistreated
I Surrender
Can't Happen Here
Catch The Rainbow
Power
Keyboard Solo
Street Of Dreams
Fool For The Night
Difficult To Cure (Beethoven's Ninth)
Guitar Solo
Drum Solo
Blues
Medley: Stranded / Hey Joe
Death Alley Driver
Fire Dance
Maybe Next Time
Medley: All Night Long / Woman From Tokyo
Lazy
Since You've Been Gone
Smoke On The Water
Japanese "super premium" limited edition in addition to the above will also include Live In Tokyo on 3LPs and two original design t-shirts.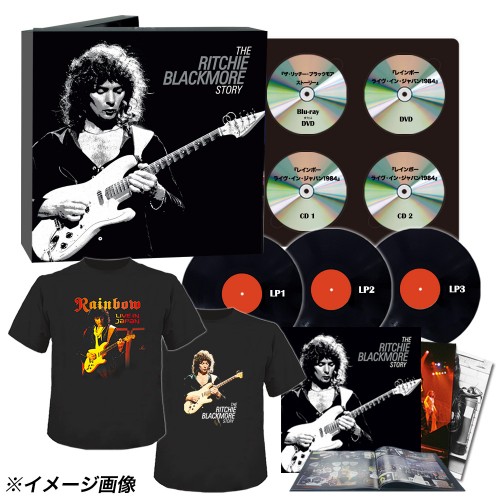 Thanks to Blabbermouth, Ultimate Classic Rock, Ward Records, Lutz Reinert, and mr.trinity for the info.