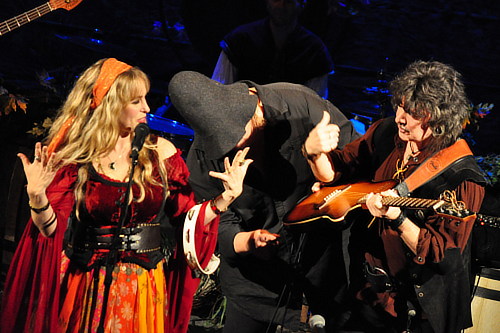 Ritchie Blackmore and Candice Night were interviewed on Rich Davenport's Rock Show that aired on Total Rock this past weekend. They spoke (mostly) about All Our Yesterdays, which was released back in September. Ritchie reiterated that his foray into rock will be a brief one, but "if it works", more dates could be added.
Selected quotes:
When I play rock all the time, I play with a plectrum, and now that I play this style, I've adopted a different finger style way of playing; I have to grow my fingernails so long, and it becomes very awkward if I'm playing electric. That's quite a challenge in itself.
[…] In rock, I was just kind of churning out heavy metal riffs and it was becoming stale and kind of redundant what I was doing. I got kind of bored with the whole thing. Now I'm always sitting with a guitar and playing finger style when I'm trying to come up with new ideas and progressions, and it's a very natural process. Whereas I felt that in rock, it was becoming contrived. We'd need to rehearse and it would have to be a hard rock, riffy number, and [I felt like] I was starting to just repeat myself in a way.
I feel at home playing both styles — whether it's finger style or electric. I just like the difference. It's almost more of a challenge to go on stage and play with an acoustic guitar very quietly. For me, that's a lot harder than the rock style, 'cause [when you play heavy rock], you rely on the amplifier to kind of excite people and turn up the energy. When you're playing acoustic, you've gotta try and excite and move an audience with just technique, and I find that a lot harder. But it's very rewarding. When it works, it's great.
Blackmore's Night will go on, and this is just a brief intermission of playing some good old rock, but with some good friends and some good musicians. And hopefully everybody's there for the same reason, which is it's good music and it's nostalgia, and hopefully everything goes well. And if it works, we'll do, obviously, more dates. We're only doing three this first time. But, like I said, if it works, we'll do more later on.
The complete show is now available as a podcast:
And in case anybody had any doubts that Blackmore's Night will go on, tickets for two German shows next July are already on sale.
Thanks to Blabbermouth for the info.