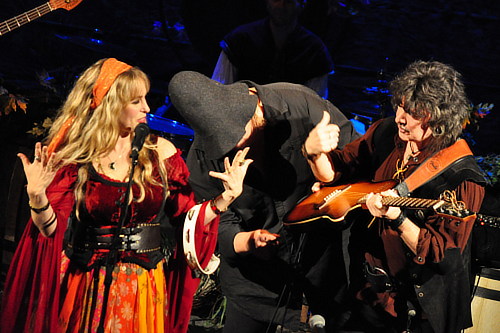 In anticipation of the short 3 date Blackmore's Night stint on US East coast, ProgSheet published an interview with m'lord and m'lady:
PS: When you look for musicians to play in Blackmore's Night, what are you looking for beyond a certain level of musical ability?

RB: With most bands, with my history being with Purple and Rainbow, if anybody joins they know there's lots of people that want to be in that type of band. With this project people are a little bit more reluctant. It's like "What are you playing? What are you doing?" It's a cross between renaissance rock music, folk ballads, and mystical music. I don't know too many bands that have done it. I can't think of any. You have purist bands that don't do the rock side. We try to do both. It's a very strange concoction sometimes. To me it's not.

It is tricky because sometimes we get people auditioning for the band and all they want to do is play rock and roll. We say "this is not what we're doing here." Then we get the other extreme. We'll have classical musicians who don't want to play any rock and roll. We always have that challenge.

CN: I feel like we have a long list of criteria when we audition people to be in the band. One of the things that really narrows down whoever's left is the fact that they can't only play one type of music. There's a lot of people out there that can play one type of music really, really well. That's the skill that they've honed. It's very rare to find someone who is versatile enough to be able to play Gypsy music, pop music, tavern music, renaissance music, rock music, and instrumental music. Really, that's the variety that we provide on stage and on our albums. It's harder to find people that have that versatility. Once you find those couple of people that are left standing – that can actually do that – you have to make sure that they've got a personality that will fit with the band. That they're willing to dress up. If it's a male – he's willing to wear tights and a renaissance shirt.

RB: Women's clothing.
Read more on ProgSheet.
Thanks to Mirko Dörner for the info.