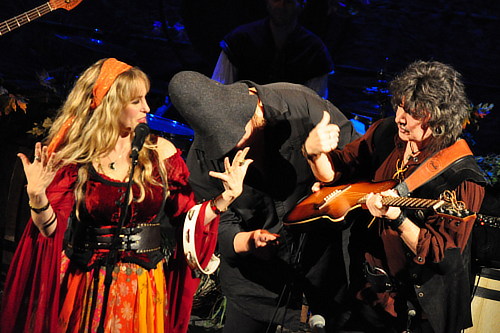 A piece promoting Blackmore's Night latest album has appeared in Forbes, of all places, based on an interview with m'lord and m'lady:
Ritchie, I read that you were given your first guitar at 11 and the first lessons you took were actually classical guitar lessons. At what point did you actually start to embrace that sound and would that formative experience kind of loom large later as you and Candice started exchanging the ideas that would come to define Blackmore's Night?

RITCHIE BLACKMORE: My friend brought a guitar to school when I was 11 and I just loved the instrument. I pestered my mom and dad to get me one: a cheap acoustic.

My father insisted I take lessons as he thought it was just another phase I was going through and that I would lose interest after two weeks. The teacher that was teaching me to play lived the equivalent of seven miles away. So I would ride my bicycle, holding my guitar, to his place for lessons. In the winter when there was snow on the ground, I would often fall off the bike into the snow with my guitar.

I wasn't playing strict classical lessons. It was more standard songs with a lilt towards classical. I took some classical guitar lessons from Jimmy Sullivan who became a very good friend of mine and who was, incidentally, an amazing guitar player. But I realized the discipline of playing classical guitar was more or less out of reach for me. And I wanted to sound like Buddy Holly anyway.

However, much later, around 1972, I was listening to David Munrow and the Early Music Consort of London playing Danserye by composer Tielman Susato – a 16th century composer. I would just play that day and night for years. I never really thought I would be playing that type of music. I just loved listening to it. In 1986, I met a medieval group in Germany who were playing in a castle. I realized, hearing them play, that I had to get more into Renaissance and medieval music. So I started fiddling on the guitar playing various pieces that sounded like Renaissance music, which was actually, again, by Susato. Then I met Candice. Her voice was perfect for the music of that period and we started Blackmore's Night.

I had been playing hard rock since I was 15 or 16. So, by 1990, I was ready for a change of pace. I was tired of playing riffs and heavy music. I still like to blast out on the [Fender Stratocaster guitar] from time to time. But it's obviously a completely different way of playing the guitar. The Renaissance music is more finger style whereas the strat is more bending and playing blues notes – distortion is very important.
Read more in Forbes.
The aforementioned 12 dances from Danserye (a book of dance music published by Tielman Susato in 1551), as arranged by David Munrow and performed by The Early Music Consort of London:
Here is another promo piece for the album, based on what looks like an EPK:
Album preview:
Thanks to Yvonne and BraveWords for the info for the info.