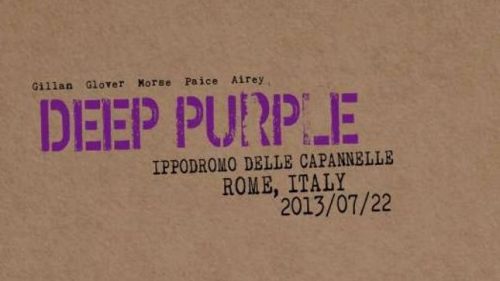 Edel is releasing a complete 2013 show from Rome, Italy, July 22, 2013. Titled Live In Rome 2013, and with the now familiar from the Soundboard Series re-release minimalistic artwork, it is scheduled to hit the stores on December 6.
Track list:
CD1
Intro
Fireball
Into The Fire
Hard Lovin' Man
Vincent Price
Strange Kind Of Woman
Contact Lost
Guitar Solo
All The Time In The World
The Well-Dressed Guitar
The Mule
Bodyline
Lazy
CD2
Above And Beyond
No One Came
Key Solo
Perfect Strangers
Space Truckin'
Smoke On The Water
Hush
Bass Solo
Black Night
Strange Kind Of Woman, Bodyline, Black Night, and Smoke from this show have previously appeared on the Now What?! tour edition and The Now What?! Live Tapes standalone compilation.
The album will be available as a limited edition digipak 2CD, coloured 3LP, and digital. It can be preordered through an outlet near you.
Thanks to Blabbermouth and Gary Poronovich for the info.