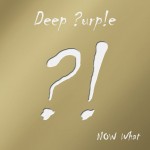 Edel has released an updated tracklist for the Now what?! tour edition. The second CD (a.k.a. Live Tapes) portion is now:
Strange Kind Of Woman
Hard Loving Man
Vincent Price
Contact Lost
All The Time in The World
No One Came
Bodyline
Perfect Strangers
Above And Beyond
Lazy
Black Night
Smoke On The Water
Live tracks were recorded in Rome on July 22, Milan on July 21, Gävle on August 10, and Aalborg on August 9 this year.
The double album will be released November 29 in continental Europe, December 2 in the UK, and some time in 2014 in the US. It will have a price "which is lower than the usual price for any new stand-alone live release". There also will be a double vinyl edition and digital, with the latter available both bundled with the studio album or as a standalone live release.
Thanks to BraveWords for the info.