On 20 October 2014, Eagle Rock Entertainment release "Live In Verona" by Deep Purple on DVD and Blu-ray[Cat Nos EREDV0121 and ERBRD5218]. This amazing performance includes "Smoke On The Water," "Lazy," "Strange Kind Of Woman," "Perfect Strangers," "Highway Star," "Woman From Tokyo" and many more.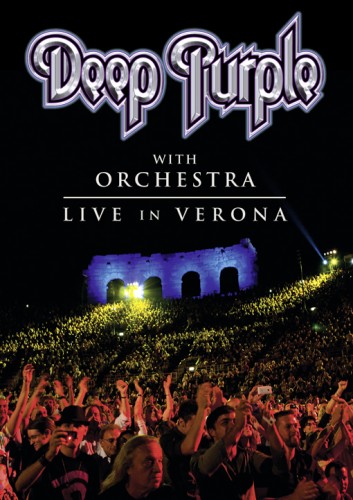 Filmed in the spectacular surroundings of the Arena di Verona, a Roman amphitheatre originally built in 30 AD, this concert from the summer of 2011 sees Deep Purple joined on stage by a full symphony orchestra for performances of all their classic tracks.Deep Purple remain one of the finest hard rock bands on the planet and are undoubtedly at their best when performing live.
The line-up for this show features Ian Gillan (vocals); Ian Paice (drums); Roger Glover (bass); Steve Morse (guitar); Don Airey (keyboards). As bonus features we include two extra tracks, "Hush" and "Black Night" recorded that night.
TRACKLISTING
1) Deep Purple Overture 2) Highway Star 3) Hard Lovin' Man 4) Maybe I'm A Leo 5) Strange Kind Of Woman 6) Rapture Of The Deep 7) Woman From Tokyo 8) Contact Lost 9) When A Blind Man Cries 10) The Well Dressed Guitar 11) Knocking At Your Back Door 12) Lazy 13) No One Came 14) Don Airey Solo 15) Perfect Strangers 16) Space Truckin' 17) Smoke On The Water
On "Live In Verona" the orchestral arrangements give an added depth and range to the familiar songs and the band respond to both playing with the orchestra and performing in such a historical location to deliver a brilliant show in front of a huge and enthusiastic crowd.