Hard Rock Casino in Biloxi, Ms. USA
August 29th, 2014
Anybody out there touting the level of performance of this Living, Breathing, Purple machine either hasn't attended their recent tour or if they have attended and are still in disapproval, they are truly in denial. I attended the show at the Hard Rock Casino in Biloxi, Ms. On August 29th, 2014, 3 days after my Birthday….. HAPPY BIRTHDAY TO ME!!!!!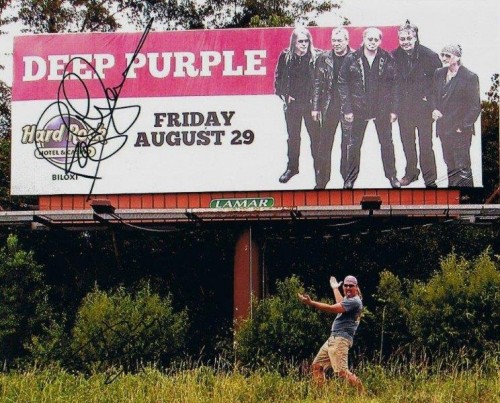 One thing that is evident, they are playing for keeps. Gillan has figured out finally that it isn't necessary to attempt all of the High end peak screams and notes. This is FANTASTIC. He paces himself and hits it where he wants and it has given him a whole new level in regards to overall performance quality. In other words, less is more. Yes as others here have stated, he goes low sometimes instead of high. Yes, sometimes he talks a verse instead of sing. Yes sometimes he skips a scream or a line. That is something that all performers do when working their craft. He has done that back in the past as well. The proper note is used at the lower register which completes the verse and it works…..VERY WELL!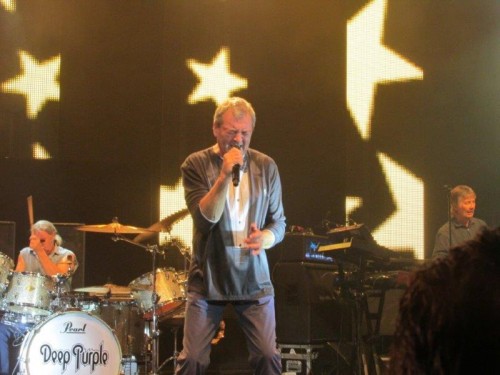 It gives a different perspective to a song that has been played over and over which I find to be a positive thing. Who wants the song to sound exactly like the original? An imbecile that's who. Just push play! It's actually quite an art to go back and forth from the high to the low register and hit the proper note which blends with the proper tone. Every first rate singer does it. I did it when I was in my band. It is the answer to dealing with vocal cord glitches that happen when they are over exposed to pushing notes. Hell, Elvis was the KING and he used that technique quite often. Sometimes it isn't due to dealing with the inability to hit the note but because the singer just wishes to change things up for the fun of it (Been there done that too). Just as the guitarist (good guitarist) may change a note here and there to change things up. Something Gillan should have been doing for a long time instead being the hardhead and pushing himself beyond what was necessary and coming up short or off key, probably due to succumbing to the hard core critics. Glad he is doing it and I hope he continues. This will allow for a longer future for Purple to exist. He is taking care of his voice and it shows. He was in fine form and sang his ass off……. VERY WELL! He hit the notes he sang. PERFECT! Hats off to you Sir!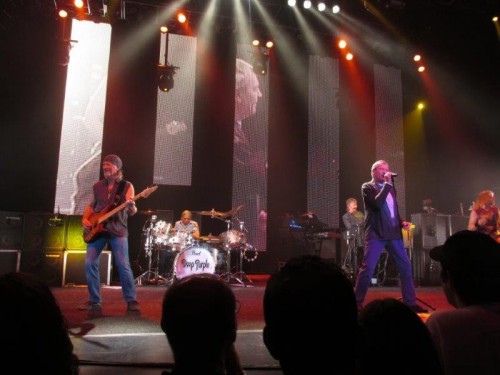 Time now for the review of the show and such.
One thing that we noticed right off the bat was the advertisement for the show. Billboard signs on the highway, lit up marques, signs posted on the local roads, ads in the entertainment magazines. You name it, they did it. This is what has been missing from the promoters for a long long time. We took a few pics in front of the signs too and printed them out to take along for signing after the show if it were to happen. As for the show, well here we go. Well, since I started off with Gillan for some reason, here is another thing I noticed that is also giving him some breathing and recoup room. Set list and extended play. Something I have been recommending for a long time. Pick songs more suited for the voice and even songs with less singing. Well that's what we got with this set list and it WORKS VERY WELL! The Mule, Lazy, Contact Lost, Well Dressed Guitar, plus the 4 musicians each do a solo or 2. Great breathers for Mr. Gillan and well deserved.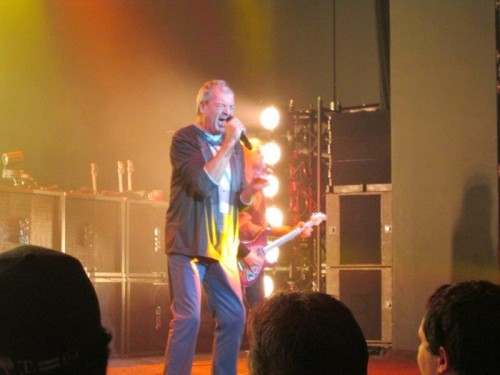 It actually takes it back to the 70's. Gillan did a lot of standing around while the band played on back then. Well guess what, it worked then and it works now. Steve and Don are taking a much more aggressive part in this band. They stand out now and it is evident they are no longer "The New Guys". Much more improve between them and the sound of this band is all it's own, thanks to them doing so. Paicey and Roger? What can you say about these 2, other than the fact that they are the true foundation and rock that holds the rhythm as no others in the business and their presence is as vital as the others. This band is a true dynamic machine that is without a doubt a no holds barred force. As many have stated here, I too was disappointed at the dropping of the "Now What" tunes. The 3 they kept worked so well with the set list. A couple more would have boosted it even more. The opener was Highway Star. Fine. That didn't mean they had to drop Après Vu. Keep it in and move it back that's all. There was no opening band. Purple were the sole performance. They had 2 days off prior. A 15 song set is uncalled for at any rate and under this circumstance, deplorable. Their jamming and solos did bring the concert to a 1 hour and 45 minute time period which is only 15 minutes short of my 2 hour minimum expectation. So at least it wasn't that short as some have been in the past (90 minutes or less), but keeping 3 more of the Now What or other MK7/8 tunes in the set would have put the time at the 2 hour mark which is what a band of this caliber and legacy of albums and years of existence should be playing as a minimum. Especially with the premium price of the tickets on this tour of $75.00 to $115.00.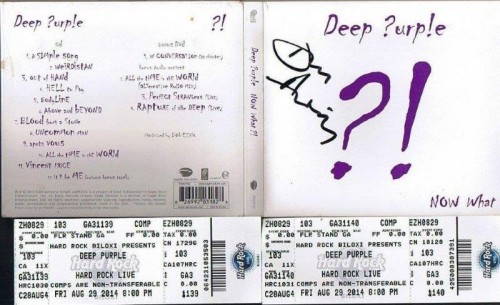 I'm glad they were able to pull in the sales, but I also feel there should be a longer show. The crowd was truly energized. Though there is a lot of dead time, but I think I understand it. This is not a Head Banging, Mosh Pit band. The folks are genuinely mesmerized at the music these guys play. Hard to hear and see when one is dancing, waving, jumping and screaming. I for one find myself just watching in disbelief and in pure appreciation of their playing. Everyone I spoke to after the show was blown away. Not doing a song by song review here. The set list was the same as with the previous dates on the tour. One thing I noticed a couple of times were when Don Airey was off key during a couple of tunes and Steve turned and gave him the signal and direction with a smile bringing it all back. AWESOME live moment. The band is playing really tight and well, yet they sometimes hit wrong notes and played by the seat of their pants…. PURFECT!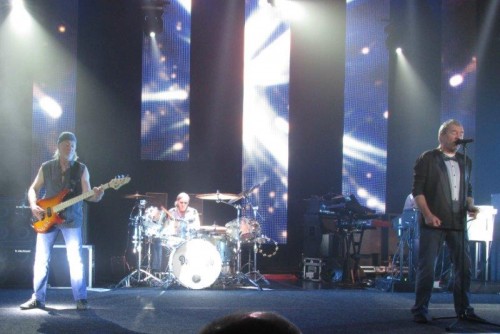 We were right up front toward the left side in front of Roger. I had taken a bunch of stuff to get signed in anticipation of taking part in the after the show meet. I didn't receive my pass due to a communication glitch and it looked grim. I spoke to the Ticket staff and advised them to contact Roger but they said there was nothing they could do. We did get Comp tickets though for some reason. While the band played on, Roger spotted us, smiled and made a gesture to go back stage. This was while they were playing. I couldn't believe it. We didn't have our passes, but Roger seemed as though he was going to make it happen. I took lots of pictures during the show (some are submitted here). Took along my Gillan Glory Road alternate LP cover for him to sign and see along with other stuff aimed at each band member. When the show was over we looked for the Meet and Greet line. Ran into a couple of folks with the passes and they had no clue where to go. As time passed, they were all scrambling around trying to find out something but nobody seemed to have any info. I looked as though they weren't going to do it. Then we went up stairs to the second level and looked around. I poked my head into a double swing door that said 'Staff Only' and there were 2 people standing outside a door down the hall. I asked if this was where the Meet and Greet was and the dude came toward me demanding a pass. I advised I didn't get mine and asked him to get Roger. As I was speaking to him Roger came out into the hall and spotted us. He came up and told the dude it was OK and that we were his guest. He then gave me a big hug and actually apologized for something that happened back in 2011, the last time we saw them at the Ravinia Park in Chicago.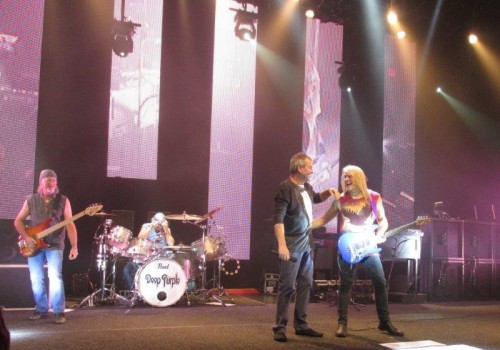 After the show, he and Don were the only ones to attend the Meeting and they were rushed to leave due to scheduling. He invited us to catch up with them at the pub in the Hotel they were staying in. We went, but the pub was closed and we had no way of contacting each other so it didn't happen. He actually remembered that incident and had wanted to apologize for the mess up all this time. Who would have thought he would remember such a nominal moment which happened over 3 years ago? Not me, that's for sure. I was totally awestruck. That's the nature of the man, Roger Glover. A truly humbled and absolute gem of a person. Hell of a Bass player too…..
As with the Ravinia in 2011, Roger and Don were the only ones to make it to the meeting. There were around 6 of us Fans in attendance. One of which was Brent, the dude who runs the Deep Purple Hub who has no problem making it loud and clear that HE IS THE FOUNDER. I believe there probably were supposed to be more folks, but they probably gave up trying to find out where to go. We got to speak to Roger and Don for quite a while. They constantly asked if anybody wanted anything to drink and would run out and bring it. Beer, wine, water. Even sandwiches. …. Amazing! It's very strange being served by the Stars of the Show. Actually got side tracked regarding my signing objective due to the great conversation. We chatted about the New Album coming and he was really exited about it. Made it clear that it won't be a 'Follow Up'. It will have yet another approach. As he states, he loves how NOW WHAT turned out. He says he actually plays it and listens to it, which is something he says he usually doesn't do regarding their albums. He is really proud of it. He stated that the next one will have its own sound. I stated that I couldn't agree more about not trying to do it again. But then that is the nature of the Living, Breathing Deep Purple. No 2 albums sound alike. Always a different approach. This is what makes them so awesome. He said the tour was really doing well and the reception has been great here in the States. He also stated that they will more than likely do it again. Biloxi was sold out and most of the other venues were also. I had asked about the others and Roger stated Gillan was done for the night and that he is taking care of himself these days. They were due in Orlando, FL. the next day and time was short so Steve and Paicey were calling it a night also. That being said as usual though, Roger and Don come through for the fans. Again, a testament to his appreciation for what he does and to those whom spend the money, effort and time to go to their gigs. I managed to get a couple of things signed though at the end and a picture with them both. Don stated he was going to head down to the pub on the first floor of the Casino when he left and invited us to pop in. So we did, and I got a picture sitting and chatting with him at the bar. He stated that he has a Classical Album coming out soon and that he loves being in Purple. Says it pays the bills…… and then chuckled. He generally heads down to a pub to have a beer or a glass of wine, watch a little sports if there is a TV and unwind after a gig. We didn't want to encroach too much into his private time, so we said our farewell headed back to our humble abode. Well, I didn't get the Gillan thing signed, so I guess it will have to wait till they tour the next album. Hard to fathom the fact that yet another Deep Purple Album is in the works and another tour to follow. There truly is a GOD ALMIGHTY!
?Ch-BeerZ!
Tracy (Zero the Hero) Heyder