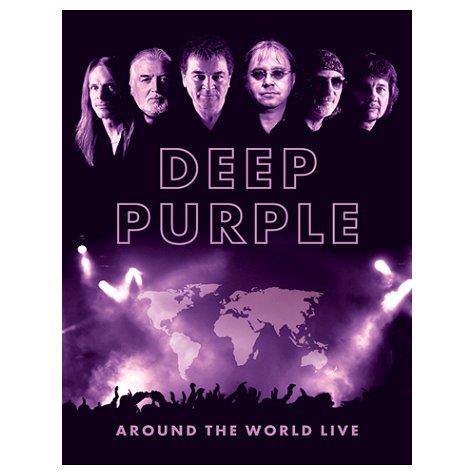 A new box set titled Around The World Live is being prepared for release by Edel. The "Deluxe Edition" 4DVD box set is slated for release in UK on Edel's subsidiary Eagle Vision on May 19, 2008. As of now, we have no info on availability and release dates in other markets.
DEEP PURPLE Around The World Live (2008 UK 'Deluxe Edition' 4-disc PAL DVD set) – This stunning set features three full Deep Purple concerts, highlights of a fourth, interviews with the band members and a new documentary telling the full Deep Purple story from their beginnings up to the present day with an emphasis on the Steve Morse era; presented in a hard-back bookstyle picture sleeve complete with a 32-page specially commissioned book written by Joel McIver [Classic Rock magazine] and is illustrated with photographs from the era covered by the concerts).
DVD1 – Bombay Calling, India 1995
1. Fireball
2. Maybe I'm A Leo
3. Black Night
4. The Battle Rages On
5. Woman From Tokyo
6. Perpendicular Waltz
7. When A Blind Man Cries
8. Perfect Strangers
9. Pictures Of Home
10. Child In Time
11. Anya
12. Space Truckin'
13. Guitar Solo
14. Lazy
15. Speed King
16. Highway Star
17. Smoke On The Water
Bonus Features – Live In Seoul, South Korea, 1995:
18. Black Night
19. Woman From Tokyo
20. When A Blind Man Cries
21. Perfect Strangers
22. Child In Time
23. Speed King
24. Highway Star
25. Smoke On The Water
DVD2 – Total Abandon, Australia 1999
1. Ted The Mechanic
2. Strange Kind Of Woman
3. Bloodsucker
4. Pictures Of Home
5. Almost Human
6. Woman From Tokyo
7. Watching The Sky
8. Fireball
9. Sometimes I Feel Like Screaming
10. Guitar Solo
11. Smoke On The Water
12. Lazy
13. Perfect Strangers
14. Speed King
15. Black Night
16. Highway Star
Bonus Feature:
17. A Band Down Under – Documentary 1999
DVD3 – Live At The NEC, England 2002
1. Fireball
2. Woman From Tokyo
3. Mary Long
4. Ted The Mechanic
5. Lazy
6. The Well Dressed Guitar
7. When A Blind Man Cries
8. Space Truckin'
9. Keyboard Solo
10. Perfect Strangers
11. Speed King
12. Guitar Solo
13. Smoke On The Water
14. Hush
15. Black Night
16. Highway Star
Bonus Feature:
17. Ian Gillan & Roger Glover interview 2002
DVD4 – Access All Areas
The definitive documentary of Deep Purple in the Steve Morse era.
Thanks to Vladimir Drybushchak for the info.