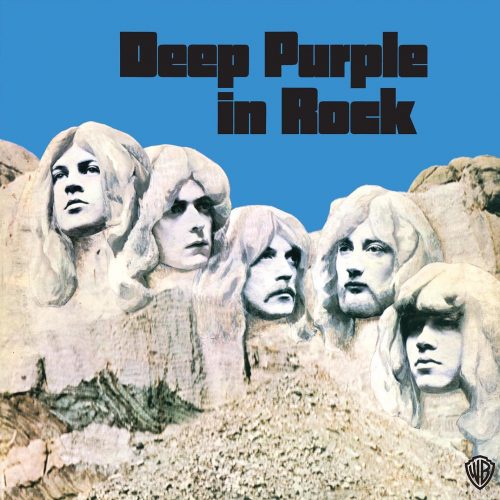 Guitar Player has a nice writeup on the history of the early Deep Purple and making of In Rock. Nothing particularly new here (at least not to any of our regulars), but it's well written, and it's a slow news day 😉
Deep Purple in Rock is many things, but subtle is not one of them. Within literally seconds of listening to it, you're blasted by Ian Paice's frantic, slippery drums, Jon Lord's braying organ, and, of course, Ritchie Blackmore's indelible guitar riffing and loopy tremolo flourishes.

Along the way, singer Ian Gillan references and rearranges rock's DNA ("'Good golly!' said little Miss Molly/When she was rocking in the house of blue light!"), punctuating his Little Richard and Elvis Presley–inspired lyrics with ridiculously piercing and forceful shrieks and wails. For that matter, the frenzied rhythm, developed by bassist Roger Glover, emulates Jimi Hendrix's "Fire."

From there, we're through two verses and choruses and on to bearing witness to a classic Lord–Blackmore organ-guitar battle. And we're only a minute into the record. The song we're listening to is called "Speed King," and it's a wild and breathless launch to In Rock.

It's also completely in line with what ensues over the next 40 minutes or so. From the snaky, metallized grind of "Bloodsucker" to the breakneck gallop of "Flight of the Rat," the monolithic guitar-organ groove of "Into the Fire," and the thundering "Hard Lovin' Man," the album is a relentless sonic juggernaut, its massive and over-the-top sound reflected in both the album title and the Mount Rushmore–aping cover art.
Continue reading in Guitar Player.
Ultimate Classic Rock has a short piece in which Joe Satriani is retelling a familiar story of how he got to fill the big shoes left empty in the middle of a tour:
When Joe Satriani got a phone call from his manager in 1993 offering a chance to replace Ritchie Blackmore in Deep Purple, the response was swift.

"I was offended that he would ask me that, because I was such a fan of Richie Blackmore," Satriani explains to UCR. "Nobody can replace Ritchie Blackmore." The guitarist remembers saying "don't call me again," before aggressively hanging up the phone. "Back in the pre-cellphone days. You know, just click, slam the phone down."

Still, the thought marinated in his mind, and it didn't take Satriani long to change his decision: "Of course, 30 minutes later I called [his manager] back and said, 'Hey, did you tell those guys no yet?' And he said, 'No, I knew you'd change your mind.'"
Read more in Ultimate Classic Rock.
Thanks to Vladimir Drybushchak and Gary Poronovich for the info.