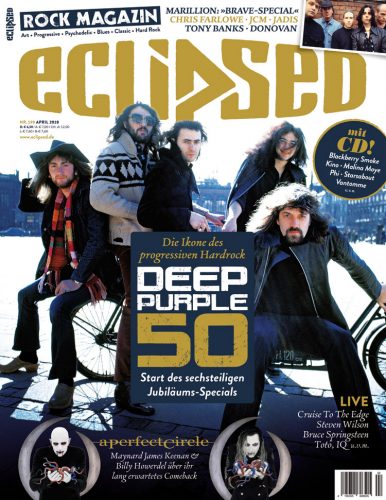 German magazine Eclipsed is celebrating 50th anniversary of the band in style. The current April 2018 issue has a historical picture of Mark 2 on the cover and 18 pages dedicated to the band inside. This includes the roadmap for the rest of the year, a career retrospective, timeline from February 1968 to the present day, a 2-page spread on Ritchie Blackmore, and reproduction of a 1970 Jon Lord interview. Later issues of the magazine will include:
May 2018: profiles of guitar players — Blackmore/Bolin/Satriani/Morse, guest guitar players, plus pictures and interviews;
June 2018: profiles of singers — Evans/Gillan/Coverdale/Hughes/Turner;
July-August 2018: profiles of bass and keyboard players — Simper/Glover/Hughes and Lord/Airey, the drummer — the one and the only, and producers — Paice/Birch/Ezrin (Glover and Bradford are not mentioned for some reason);
September 2018: Deep Purple as a live band;
October 2018: 50 greatest songs.
Even those of us who do not understand the language, can appreciate the scale of the undertaking.
Customers from select EU countries can purchase issues of the magazine online through Eclipsed shop. The rest of the world is kind of out of luck.
Thanks to Deep Purple Tour Pages for the info.