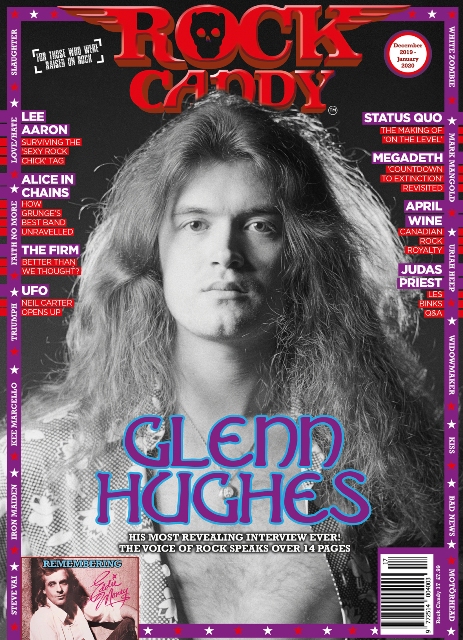 Glenn Hughes is on the cover of the latest (December 2019/January 2020) issue of British magazine Candy Rock. Inside is a 14-page article based around an interview with the man. BraveWords has quotes of him praising Gary Moore:
I've played with the greatest guitar players of them all – people like Tony Iommi, Ritchie Blackmore, Joe Bonamassa, Steve Vai, Joe Satriani, Brian May – the list is endless. But for me Gary Moore was the jewel in the crown. To sit next to him on my couch and to see him play with those insane fingers and come up with those insane melodies, well it was out of this world. I've sat with a lot of guitar players, but this man spoke to me directly.

What's a shame is that Gary was close to me in the '80s when I wasn't at my best. I worked with him on his Run For Cover album in 1985, but he had to let me go.

Gary was Gary. When he decided he was going to do something then he did it. He was compassionate and sensitive, but at the same time you didn't want to mess with him. But what I never, ever heard Gary say was, 'I'm so much better than that guy' or 'I'm the best.'
Individual issues of the magazine are available for purchase online.
Thanks to BraveWords for the info.