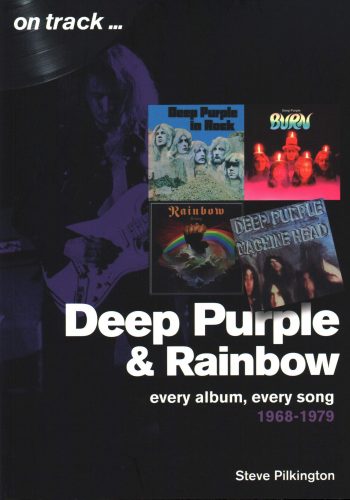 An outfit called Sonicbond Publishing has a new-ish book in their 'every album, every song' series — Deep Purple & Rainbow 1968–1979 – Every album, every song. It came out in June 2019, but slipped completely under our radar. Now there's even a Czech language edition available. An Amazon review by Short person (yeah, right) reads:
This song-by-song guide is unusual in that it crosses bands, from the inception of Deep Purple mk.1 in 1968, through to Rainbow's 1979 album Down To Earth. Author Steve Pilkington, a music journalist and rock magazine editor, includes content from actual conversations he has had with members of the bands about incidents and anecdotes recorded in the book, as well as historical facts gleaned from extensive research. Each chapter features a section on the album's background and a paragraph about the sleeve design, followed by a description and analysis of every track. If there are any known B-sides or other associated material that didn't make the album cut, these are also given attention, all handled with light-hearted humour, making it an easy read and giving rise to several genuine laugh-out-loud moments! Any book of this nature inevitably includes a fair whack of personal opinion of course, but as it happens I found myself agreeing with most of it. There is an in-depth description of the dramatic background to Smoke On The Water and a stonking section on Highway Star, in which the author has done a good job of capturing the breathless excitement of the track itself. He's obviously a fan but is candidly honest about the lowlights as well as the highlights. I really enjoyed this book! Go on, you know you want to …
The book is available from your nearest Amazon outlet, or from Book Depository with free worldwide delivery. ISBN: 9781789520026.
Bernie Marsden's book Where's My Guitar? that was financed via pledgemusic.com a couple of years ago, has now been released by a "proper" publisher. Publicity blitz ensued, with excerpts being published by GQ and Mirror. The GQ story deals with recording of Come and Get It at the Tittenhurst Park, a stately house and studio at one time owned by John Lennon and Yoko Ono.
There were still light switches embossed with "John" and "Yoko", among a fair few other little touches that had been retained by Ringo Starr, who had not lived much in the house since he bought it in 1973. As I explored, I found what I called the "Imagine" room, which had featured in the video of the song and retained the famous white piano and a jukebox. It looked just as it had on screen, with its lovely bay windows and shutters. I felt a tremendous vibe and I had to pinch myself a couple of times. I came back and sat down at the piano one afternoon, attempting a version of "Let It Be". Jon Lord walked in to find me ham-fistedly attempting to play the legendary instrument. Finding myself on the end of an appraising stare, I slowly removed my hands from the hallowed keys.

"Get away from that piano, Mr M."

"Yes, sir, sorry, Mr Lord, sir," I replied. I knew my place.
You could walk for 40 minutes or more in the gardens, alongside gigantic trees and exotic flowerbeds to a man-made lake – the man being John Lennon. I took out the same boat that you can see John and Yoko in Gimme Some Truth. Moody, who couldn't swim, refused my offer to row him, even though the water was less than a metre deep. He missed his chance to be my Yoko. There was a two-seater wooden bench by the lake and we used Moody's penknife to carve "J loves Y" in one of the arms. BBC Radio 1 DJ at the time, Nicky Horne spotted the graffiti when he interviewed David by the lake for Newsbeat and the discovery of John and Yoko's simple love token was much discussed live on the air. Oops. Micky also half-buried an old coffee mug that he inscribed with "John", hoping it would be unearthed years hence as an object of great reverence.
Read more at GQ.
The Mirror story focuses on Bernie being recruited circa 1989 to 'harden up' Cliff Richard's sound.
The book is available from your nearest Amazon, with the UK store currently listing it as #1 bestseller in 'Musical Philosophy & Social Aspects' and 'Guitars' categories, and #5 in (i kid you not) 'Philosopher Biographies':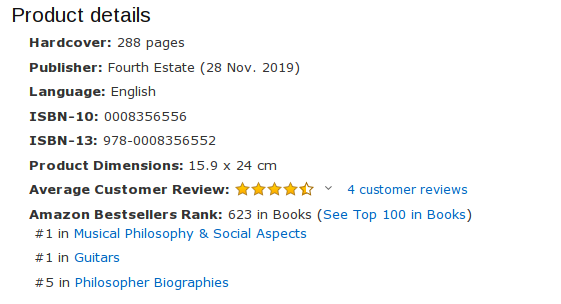 Thanks to Viktor Steinbach and BraveWords for the info.