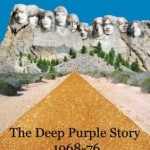 The world is not exactly inundated with books detailing the story of Deep Purple. Chris Charlesworth's Illustrated Biography had been pretty much the only source for decades, but it's been out of print for a very long time, and nowadays is not considered terribly accurate. The text has been updated by Simon Robinson into the mammoth 200-page booklet accompanying the 2002 Listen Learn Read On box set, which itself is now out of print. Which leaves us with just one title still in print: Smoke on the Water: The Deep Purple Story by Dave Thompson. Not exactly a cornucopia. The Road of Golden Dust by Jerry Bloom is aiming to fill this gap at least partially.
Jerry's credentials, of course, include publishing More Black Than Purple fanzine, organizing the 2008 convention, writing numerous liner notes, and working in various capacities with Glenn Hughes and Nick Simper. His two previous books — Black Knight, an unauthorized Blackmore biography, and A Matter of Fact, a collection of Purple anecdotage — are thoroughly researched and have been well received.
The Road of Golden Dust covers history of the band starting from the very beginning up to (roughly) the end of 1976. There are couple of pages outlining what happened afterwards, but the subtitle is The Deep Purple Story 1968-76, and the author sticks to it. However, the period that is covered, is covered well and, as it became the norm for Jerry, is throughly researched. Apart from Tommy Bolin and Rod Evans, every member of the band has been interviewed over the years by him personally. And when memories start to fail (and they do more often than you think), he turns to documents for evidence.
The only criticism I can think of is while the book takes time to explain the younger readers how the ticket sales worked before the Internet, it fails to explain to non-British audience some realities of life in the country. For example, the phrase "he failed his eleven-plus and missed out on attending grammar school" have sent me googling for what the hell are eleven-plus and grammar schools, contemplating the pros and cons of meritocracy vs social mobility in the process (yes, attention span is short in this one ;-).
The book is fairly easy to read, and at 175 pages (excluding discographies) is not overly burdensome. One can debate the merits of committing discographies to paper in this day and age, but look at them as a free bonus.
And I sincerely hope that this book will be followed by another volume or two on the more recent history of the band. Now, this is where the gaping hole is so large, one can do aerial acrobatics in there.
The Road of Golden Dust is being released by Wymer on October 26. You can order your copy from Amazon UK (Kindle edition available in the US) or directly from the publisher.