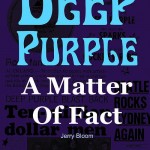 Wymer Publishing were kind enough to send us a preview copy of Jerry Bloom's Deep Purple — A Matter of Fact.
First things first: what this book is not. It is not a comprehensive biography of the band. It does not pretend to be. As such, I would not recommend it as an introductory reading on the history of the band.
What the book is: it is a collection of short (2-3 pages) stories arranged in roughly chronological order. Some of them are highly amusing, some educational, some quite bizarre, and some quite mundane. What falls where is a matter of opinion of course, but I'll give you one example of the latter category: a certain singer, whose name escapes me at the moment, was offered a job in the nascent Deep Purple (way before Rod Evans came into the equation). His manager refused, in the hopes of advancing said singer solo career instead. Months later the manager refused another job offer, this time from one Jimmy Page, for another nascent band. The fact that I forgot the name of the singer before I finished the book, speaks volumes about wisdom of said manager on both counts.
It is 193 pages long, printed in rather generous 10-point(ish) font, interspersed with contemporary press clippings and an odd photo or three. Being a collection of short stories, it also plays quite well with reading on the go.
From what I can tell, the book is very well researched, although of course there's no ceiling of how well it can be done, and some (you know who you are) might find inaccuracies.
In summary, it is quite literally what it says on the cover:
Based on interviews with band and road crew members, contemporary press articles, and drawing on management files, A Matter of Fact helps to clarify the truth behind several stories. It also dispels some untruths once and for all, as well a few previously un-revealed new stories that will appeal to even the most diehard fans.
Our verdict: while we would not recommend it for an introductory reading on the history of the band, it is a very interesting read for hardcore fans. This way, it is highly recommended.
Deep Purple — A Matter of Fact will be published on May 4, 2015 via Wymer. The book can be preordered from the publisher's website.