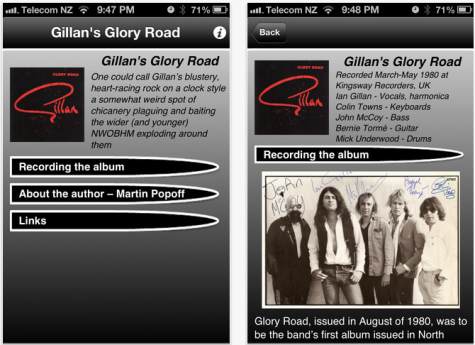 Martin Popoff has published a short ebook about Gillan's album Glory Road.
In a cheeky mood, I've been known to call Gillan my favourite band of all time, given the insane charm of all six of their albums, the guys burning it out before they could screw up (just like another one of my fave raves, Max Webster).

This dollar "print single" can be consider a canned history of a band seldom talked about in detail, so I'm particularly proud to unleash it upon all you like-minded ancient metal lovers.

Gillan… man, they were a cross between Deep Purple and Tygers Of Pan Tang, weren't they? With a crazy circus organist chucked on top, one who helped write a lot of the songs. Unfortunately, Colin Towns wouldn't talk to me, but the irrepressible Ian Gillan did, as did Bernie Torme and John McCoy. Surprised to see I didn't include any of my chat with drummer Mick Underwood in here, but you'll see him in the future, when I get around to giving you the story of Future Shock, follow-up to our current concern Glory Road, which is the third album for these punk metal nutters gone newobbim…
The book is available as an app for Apple devices at the iTunes store and as a high resolution DRM-free PDF from zunior.com for everything else (and priced for a buck, it won't break the bank).
There is also a book/app about Whitesnake's "Ready an' Willing" in the same series.
Thanks to Blabbermouth for the info.