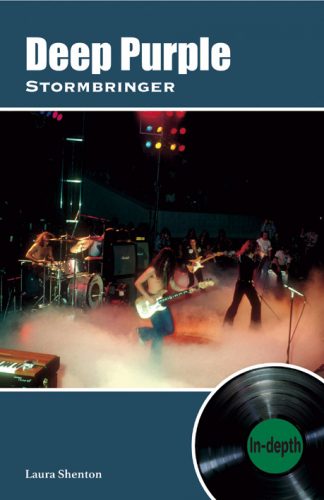 A new book about Stormbringer is being prepared for publication in March 2021. The author of is Laura Shenton, whose Purple family credentials include a Cozy Powell biography and a Tommy Bolin one.
The publisher's blurb reads:
In 1974, Stormbringer was a pivotal album for Deep Purple. The second one made by the Mk3 lineup of Ritchie Blackmore, Jon Lord, Ian Paice, Glenn Hughes and David Coverdale, it was ultimately the album that would see Blackmore call it a day with Deep Purple until the Mk2 lineup reformed in 1984.

Blending a range of styles across heavy rock, funk and soul, Stormbringer is a very unique Deep Purple album and there is a lot to be said about the story behind it. In this book, music author Laura Shenton MA LLCM DipRSL [that's a lot of letters! — ed.] offers an in-depth perspective on Deep Purple's ninth album from a range of angles including how it came to be, how it was presented and received at the time (live as well as on record), and what it means in terms of Deep Purple's legacy today.

As the author explains: "Basically, the book covers how the album was made, what was going on with the music in terms of the artist's intentions, how it did musically and commercially and what happened next."

The narrative is essentially driven by contemporary interviews with the artists with small bits of music theory where relevant… in some cases they delve into the structure / key signatures / time signatures, based on the original sheet music without straying away from being an engaging read for non musicians.
What: Deep Purple Stormbringer – In-depth by Laura Shenton
When: March 12. 2021
Where: Wymer Publishing
ISBN: 978-1-912782-60-4
Price: £14.99
Format: Paperback, 216 x 138 mm, 184 pages, including an 8 page colour plate section
The book can be preordered from the publisher.
Thanks to Yvonne for the info.