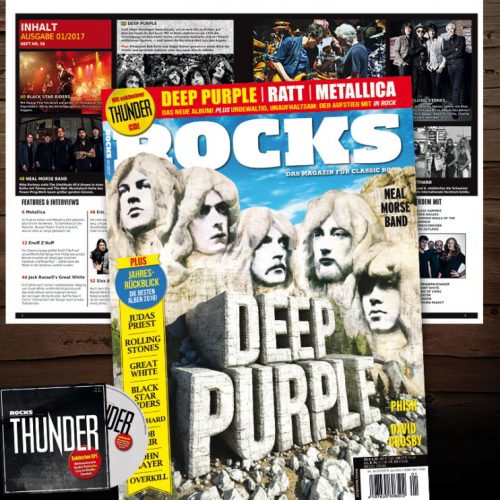 German magazine Rocks is featuring Deep Purple on the cover of its current issue (January 2017).
Apart from an eight page story of their rise with In Rock, it also features six pages on the new album inFinite (which was still untitled when the interviews with Bob Ezrin and Roger Glover were conducted). The journalists were able to preview half an hour worth of music from the album [possibly during that press event that Roger mentioned a few weeks ago — THS]. The working titles of these songs include Time for Bedlam, All I've Got Is You (which is about a relationship crisis), The Surprising (in which the band should be furthermost away from what the fans might expect), Birds of Prey (with drum sound reminding on Led Zeppelin's When the Levee Breaks). The article also covers relationship between Bob Ezrin and the band, the times when Steve Morse and Don Airey joined the band and learned that they can play and write in their own style, how Gillan and Glover are working on the lyrics, and other things.
Thanks to Timo Teichert for the info.