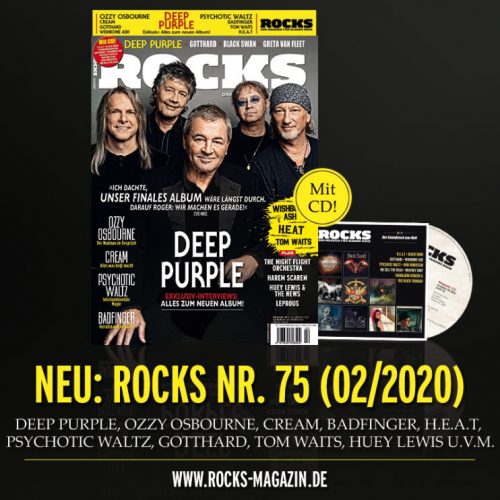 Our contributor from Germany posted a summary of the Rocks magazine coverage of the upcoming Deep Purple album in the comments, and it deserves to be promoted to a news item.
The feature is quite interesting and in depth, here are a few selected highlights for our non-German readers courtesy of Uwe Hornung. All the usual caveats about reverse translation apply.
The new album is to sound more progressive, say the "Rocks" scribes (hardly a surprise, ever since Don joined, the band has become more and more a prog rock one, it's in his DNA …)
Whoosh! (that's the title of the new album) will contain seven songs, most of them lengthy. The title is to allude to the world being eventually washed away due to climate change.
Bob Ezrin is perceived as a hard taskmaster by the band, especially by Steve Morse, though it was Steve's idea to use him in the first place (after having experienced him as a producer when Steve was with Kansas in the 80s).
Bob sees Purple as "a genre of their own, not classic, not contemporary, if I had to give it a name I'd choose 'rock grandeur'". He also deems them as a quintessentially British band (and all the better for it, "only a Brit band could play the music as they do") and Morse's guitar style as "international and eclectic enough to fit in". Improvisation — a dying art — is what makes Purple stand out, past, present, and future.
Steve had a hard time adjusting from Jon to Don, Jon was telepathic, "with Don there were clashes during the recording of Bananas", but that is now all water under the bridge. Everyone in the band is now in agreement that Don is the "mad professor" and the off-the-wall musical driving force.
While Little Ian deems Purple's 70s production work as "still sounding good today, they were products of their time and made for the audience we had back then", he rates Bob Ezrin as creating productions that "sound like they stem from us, yet are made for today".
Roger hated the sound of Rapture of the Deep (the album) immediately.
back in the day Bob Ezrin was approached by Purple Records to produce Made in Japan, but he was busy with other things, so he turned the offer down only to see MiJ become the iconic live album of the 70s with huge sales making him think "Damned, I sure messed up that one!". Well, the postman always rings twice.