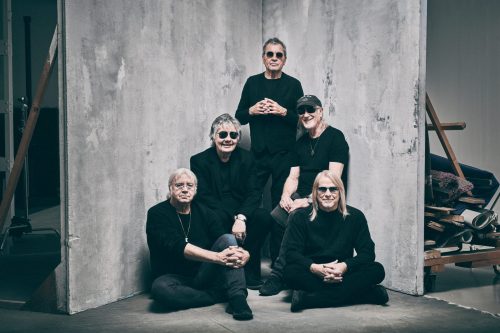 A few select reviews of Whoosh from the press we haven't covered before. And if the album seemingly has split the fanbase down the middle, critics' reaction has been pretty much overwhelmingly positive.
Associated Press (and being AP, it's been reprinted all over the place; no score given):
Any ensemble still willing and able to emulate its best years shouldn't call it quits after an album as good as "Whoosh!" — unless Deep Purple wants to go out on a peak.
NME (3/5):
Packed full of decadent riffs, haunted house keyboards and frontman Ian Gillan's gloriously hammy vocals, 'Whoosh!' isn't just a testament to their staying power, but perhaps one of the most stupidly fun and outrageously silly albums of the year – and goodness, we're all in need of a bit of fun right now, aren't we?
MEAWW (no score):
[Lineup] changes aside, 'Whoosh!' is an interesting release. It has a gorgeously classic rock sound to it, one that is sure to transport you back to the height of rock and roll's glory days, but it isn't one that sees the band's sound stagnate in any way. Despite evoking a sense of nostalgia, Deep Purple keeps things fresh on 'Whoosh!' As they tell it, on this album, the band has "stretched out in all directions," truly allowing their creativity to be their guiding light. And the result is the band's most versatile record to date.
Metal Wani (9.5/10):
By itself 'Whoosh!' presents itself as a standard of impeccable musicianship and production quality which is obviously backed by the rich trove of the band's experiences over the decades.
Cryptic Rock (3/5):
Definitely an album which proves how Progressive Deep Purple can be, Whoosh! is certainly one of the more diverse sounding Deep Purple collections. At the core, Whoosh! is very eclectic in the way it combines the right balance between a classic heavy Rock sound and Progressive Rock. As a stand out, Gillan's voice is very distinctive and Whoosh! will strike a chord with fans of Deep Purple's more recent works. Needless to say, Deep Purple are here to stay and Whoosh! is the next chapter for these pioneers of Rock music. For these reasons, Cryptic Rock gives Whoosh! 3 out of 5 stars.
BangerTV (4/5):
Thanks to Jim Collins for the heads up.