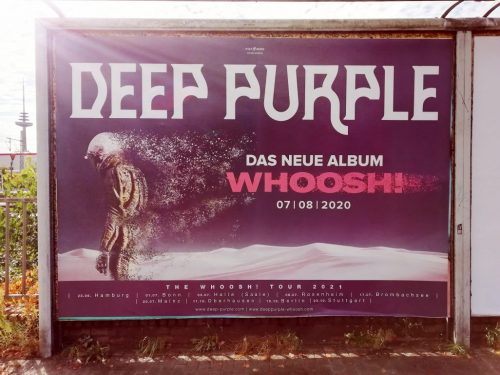 Ultimate Classic Rock has a Whoosh feature built around an interview with Paicey. The takeaway message is that despite And the Address being intended to close the full circle, this might not be the last Deep Purple album after all:
It might not be the last record. We've got all of this dead time. We know we can't do any concerts until sometime next year. Now, 10 or 11 months, is a long time for musicians to sit around doing nothing when they could do something.

So, it wouldn't surprise me – and I know there's little mutterings going on – that we might get together towards the end of this year and see if we can write some more stuff. If we can, if we've got some ideas that we like, then there's no reason at all why there shouldn't be another record.
Read more in Ultimate Classic Rock.
Thanks to BraveWords for the info. Photo: street ad for the album as spotted in Kiel, Germany, by Tobias Janaschke.