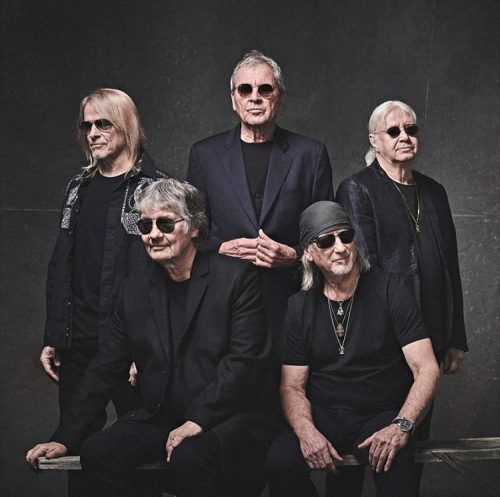 Several Whoosh reviews from around the web, and they are all very, very positive.
There's no dip in quality; in fact just when you think there should be, track 9, three belters appears. Storming. The band do not sound like they are going to quit any time soon. Only actual physical death, or serious arthritis, is going to stop these guys. No pressure, no expectations, just album of the year so far. Between producer Ezrin and label Ear Music, Deep Purple are in a good place right now. Let's hope it stays like that. *****
When I say they ALMOST completely forgot about their rearview mirror, it's because their history is too rich to be ignored. "Whoosh!" is undeniably a Deep Purple album, and carries all the elements that made them a force to be reckoned with in the classic rock arena. The title and cover artwork harkens back to the previous release "Infinite", where the end of the road seemed to be fast approaching. Instead, this new entry in their discography effortlessly scrapes any doubts about their ability to deliver and promises to take the listener into outer space. This may look like an unattainable goal for a band whose members are well into their 70's, but they reach it with unparalleled flair and ease.
'Now What?!' and 'InFinite' are for sure great longplayers but in retrospective it feels like they paved the ground for 'Whoosh!'. Deep Purple's newest album contains all you can ask for. It's the typical Deep Purple sound signature providing consistency on which variety shines. These five guys still know how to Rock and it seems they still have a lot of fun in writing and recording stellar Rock music.

9 stars out of 10
"Whoosh!" is a solid album of grown-up bluesy rock but with some nuanced twists and turns.
No worries, this is a standard Purple release with just a few new wrinkles about it that bring an up to date sense of relevance you will not be able to deny, especially how the lyrics reflect a real-time presence. They manage to wrap their classic sound around current affairs and turn down the wattage for what is a super digestible outcome. Make no mistake this is Deep Purple, but with perhaps a side of something they have not explored enough in the past.
If this is the swansong then it's a very good one…

The funky hard rock of Drop The Weapon (which with it's little Dancing In The Streets quote from keyboarder Don Airey hints at the playfulness of something like Mary Long from 1973's Who Do We Think We Are) aside, you don't get much of the 'classic' Deep Purple sound anymore. This, of course, shouldn't come as any sort of surprise should you know anything about the band; singer Ian Gillan is now seventy four years old, and long past any suggestions that he should try and regain the glories of yore…

What is surprising is just how well Purple have repurposed their sound to face the challenges of septuagenerian rock n'roll; Whoosh!, their twenty-first full-length studio album and first since 2017's Infinite, finds the band in musical repose, broadening their sound to take in, well, anything they feel like doing really.
Reviewer's score: 8 Superb
Users' score: 5.3 (6 votes)
"Whoosh!" is a good album, perhaps not a future classic or anything, but it's hard to really find too many glaring faults with it, since its songwriting and musicianship are fairly good, and the band is clearly not resting on its laurels, even more than half a century into their career. About the only negative thing I can say about the record is that it won't particularly "wow" you if you've been following all of the band's releases up to this point. But it's still a good effort from a band that has been around practically forever and refuses to simply become a nostalgia act.
Thanks to Attila and Gary Poronovich for the info.