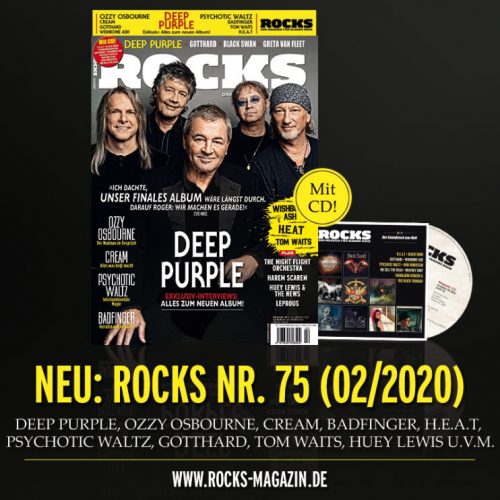 Deep Purple and their upcoming new album is the cover story of the issue #75 (February 2020) of Rocks magazine out from Germany. Machine translation of the promo blurb reads:
Deep Purple (Exclusive!)
When Infinite came out in spring 2017 and Deep Purple embarked on a concert tour with the meaningful motto "The Long Goodbye", the time seemed to have come to say goodbye to the hard rock giants, whose glorious history preceded half a century in England. The band has now surprisingly announced their 21st studio album – and talked about it exclusively with ROCKS. We were able to hear seven new songs in advance and conduct extensive interviews with Ian Gillan, Ian Paice, Steve Morse and producer Bob Ezrin. What lies ahead for us in spring is in our cover story.
Thanks to Deep Purple Tour Page for the heads up.