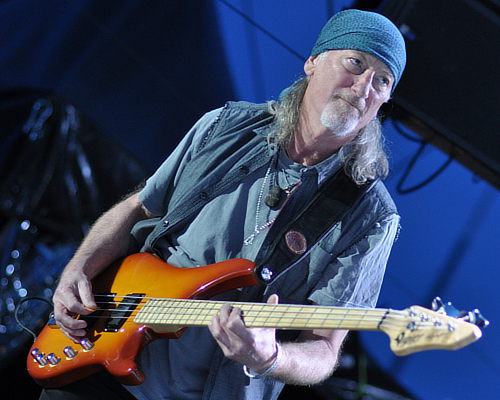 Roger Glover spoke to Ultimate Classic Rock on the occasion of upcoming North American tour. As usual with Roger's interviews, it's rather off the cuff and thus very interesting. He also once again confirmed that the band is working on a follow up to Now what?!, and it will be produced by Bob Ezrin.
Bob Ezrin has a diverse track record of projects and success that really speaks for itself. What did you like about Bob, as far as what he brought to the table for Deep Purple?

He was very decisive. There's no leader of this band, so decisions can be a bit fraught sometimes. One person thinks this way, and another person thinks that. Bob was very good about picking out what the best idea was and sticking to it, and in the process not hurting feelings. Yeah, a few feelings got hurt. I remember going into the studio with a song that Ian Gillan and I had written called 'Weirdistan' and when we did the vocal session, I started with Ian and picked up an acoustic and we were going over what the song was going to be, and I heard from the back of the studio, Bob, who was hidden behind his computer doing something, said, "I'm not liking this!"

You need someone that you trust to be able to tell you the bad news. Because the tendency is that you want to protect yourself, you know, "But we wrote it — it's us and we believe in it!" and he goes, "Nope, it doesn't sound very good!" So, that was a great learning experience and it cut the time down a lot. Especially if you have a couple of days arguing about a song and not getting it right, he was very quick and decisive and you know, he's a songwriter, so he knows his music. He came up with some very, very helpful suggestions. It was a match made in heaven and we're going to do it again!
You mentioned working on another album and working again with Bob Ezrin. What can you tell us about that?

We had a writing session six weeks ago. We took a week in Portugal and funny enough, Iron Maiden's bass player, Steve Harris, is building a studio there. It's not quite finished, but he let us use the room, because the room was good. So we had about a week there and we've got about a dozen rough ideas down.

So from here on out, there will probably be another writing session later this year and maybe we'll even start recording towards the end of the year — or certainly in the new year. But yeah, we've kept in touch with Bob. Bob has actually become a very good friend. He really enjoyed making the record with us, so it's a no-brainer really that we're going to do it again. I think that will probably be out sometime next year.
Go read more at the Ultimate Classic Rock.
Thanks to Blabbermouth for the info.