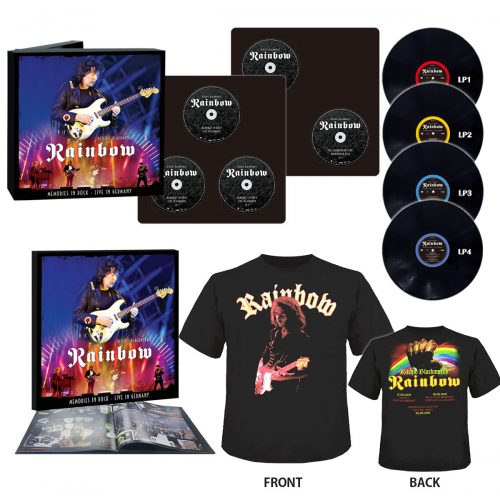 DPAS mentioned that there is a Japanese box set of Rainbow Memories in Rock on the market that includes a soundboard recording of the Birmingham show as a bonus. This is of interest as by most accounts that show featured the best performance of the three gig mini-tour, while the two German shows on the release can be best described as, ahem, tentative.
Our Japanese correspondent furnishes further details.
The "super premium" box set in question has a limited edition run of 500 copies and is available exclusively through Ward Records for a princely sum of ¥34,884 (¥32,300 excluding tax). In addition to the 2CD Birmingham recording, it includes the regular Japanese editions of the album (compiled from the two German shows) on Blu-ray, 2CD, and vinyl, plus a photo booklet, and a t-shirt.
Birmingham track list:
Disc 1
1. Over the Rainbow – Highway Star
2. Spotlight Kid
3. Mistreated
4. Since You Been Gone
5. Man on the Silver Mountain
6. Soldier of Fortune
7. Difficult to Cure (Beethoven's 9th)
8. Catch the Rainbow
Disc 2
1. Perfect Strangers
2. Long Live Rock and Roll
3. Child in Time
4. Stargazer
5. Black Night
6. Burn
7. Smoke on the Water
Expect it to show up on your favourite The Pirate Bay mirror soon.
Thanks to Akemi Ono for the info.