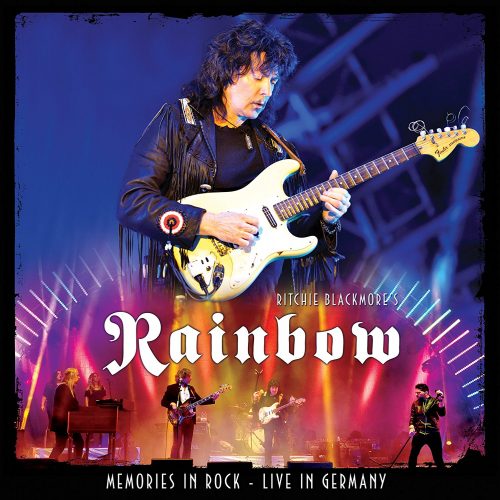 Track listings for the different formats of the new Rainbow live release Memories in Rock — Live in Germany started surfacing. Here's what we know so far.

Source legend:
L = Loreley, June 17, 2016
BB = Bietigheim-Bissingen, June 18, 2016
"Common denominator" set that will appear everywhere:
Pomp and Circumstance (intro tape)
Over the Rainbow – Highway Star (L)
Spotlight Kid (BB)
Mistreated (BB)
16th Century Greensleeves (BB)
Since You Been Gone (BB)
Man On The Silver Mountain (L)
Catch The Rainbow (L)
Difficult To Cure (Beethoven's Ninth) (L)
Perfect Strangers (BB)
Stargazer (L)
Long Live Rock 'N 'Roll (BB)
Child In Time (BB)
Black Night (BB)
Smoke On The Water (BB)
Bonus tracks:
Spotlight Kid (L)
Man on the Silver Mountain (BB)
Long Live Rock 'N 'Roll (L)
Stargazer (BB)
Japanese bonus tracks:
Since You Been Gone (L)
Catch the Rainbow (BB)
The 4 bonus tracks will appear on the 2CD edition and will not on the vinyl, both according to German Amazon. Still not clear about the video versions as both those 4 and the 2 Japanese bonus tracks, however, are billed as 'live video' on the Japanese Amazon. Japanese DVD+2CD deluxe edition will also come with a commemorative t-shirt.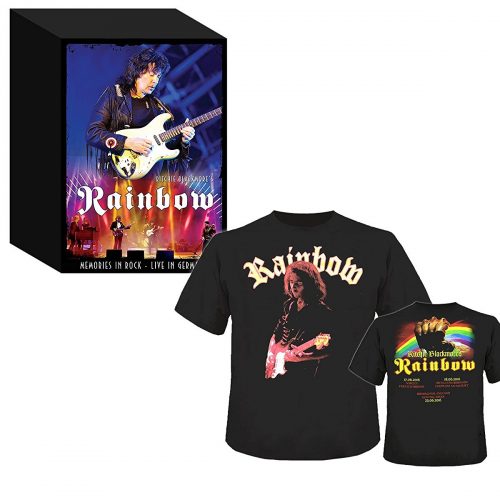 The Blu-ray is already a #1 bestweller on Amazon Japan in the Hard Rock & Metal DVD category. That's with DVD at #4, another Blu-ray edition at #5, deluxe edition at #6, and yet another DVD edition at #7. Sure, we get it, the land of the rising sun loves 'em some Blackmore.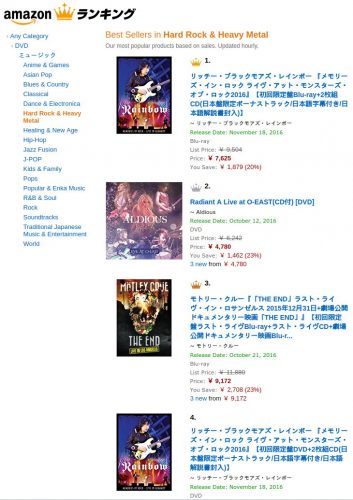 Release date is set for November 18 in both European and Japanese markets. So far there is no indication of when (or even if) there will be a North American release.
Thanks to BraveWords and Akemi Ono for the info.