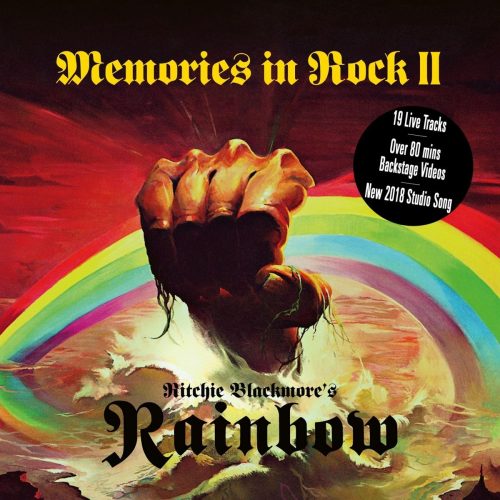 Rainbow will release a second installment of Memories in Rock on April 6 via the in-house label Minstrel Hall Music. This will be compiled from the 2017 UK shows, plus a bonus disc of backstage clips and interviews, a new lineup studio recording of I Surrender, and a brand new track called Waiting For a Sign. The latter will also be released as a single on March 16.
Memories in Rock II will be available as 2CD+DVD as well as 3LP in blue, red, green, or black vinyl. Apparently the vinyl edition will not include Carry On Jon nor Temple Of The King.
Disc 1:
Over The Rainbow
Spotlight Kid
I Surrender
Mistreated
Since You've Been Gone
Man On The Silver Mountain / Woman From Tokyo
16th Century Greensleeves
Soldier Of Fortune
Perfect Strangers
Difficult To Cure
All Night Long
Child In Time
Disc 2:
Stargazer
Long Live Rock'N'Roll / Lazy
Catch The Rainbow
Black Night
Carry On Jon
Temple Of The King
Smoke On The Water
Waiting For A Sign
Disc 3:
Ritchie Blackmore Interview
Ronnie Romero Interview
Jens Johansson Interview
Bob Nouveau Interview
David Keith Interview
Candice Night Interview
Lady Lynn Interview
Dave David Interview
Andreas Bock (tour manager) Interview
Michael Bockmühl (guitar tech) Interview
Bonus Backstage Clip
I Surrender 2017 Backstage Clip
Japanese release will come out 2 days earlier, on April 4. From what we can ascertain at the moment, there will be the following editions:
3CD with the listed above 2CD material, plus a special CD for Japan that includes Land of Hope and Glory, I Surrender and Waiting for a Sign; (Land of Hope and Glory and the Ronnie Romero's version of I Surrender were released in May 2017 as downloads but not on a CD);
deluxe edition that includes all of the above and will add the DVD;
super deluxe that will come with a T-shirt.
All Japanese editions can be preordered from Amazon Japan.
Thanks to BraveWords and Akemi Ono for the info.