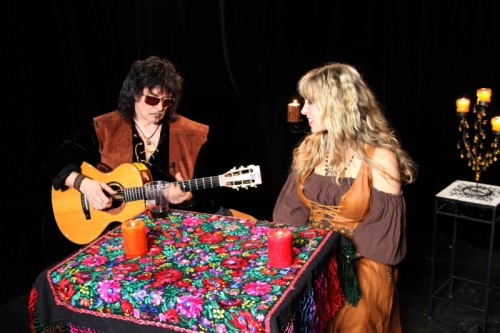 Blackmore's Night are featured in a short article Billboard. The article premieres new video for the upcoming album and has a few quotes from the titular couple.
On the much-talked-about recently Blackmore's plans for a foray back into heavier rock:
I'm now 70, so I just felt like playing some rock 'n' roll for a few days. We're going to do four or five dates of just playing the old rock stuff, Purple stuff and Rainbow. I'm doing it for the fans, for nostalgia, and the singer I found is very exciting; he's a cross between Dio meets Freddie Mercury. So this will mean exposing a new singer to the masses, and I'm sure he'll become pretty famous because of his voice.
The following is not a verbatim quote, but a paraphrase from the author:
Blackmore isn't revealing the other musicians yet because contracts are still being negotiated, but none will be known names from his previous groups as has been rumored. He plans to film and record the performances for future release.
On the upcoming The Ritchie Blackmore Story documentary:
I haven't seen it myself. People are always going, 'Why haven't you seen it?' I leave it to other people to OK. Candi's seen it and our management's seen it, and I go, 'Well, how is it?' and They go, 'It's very good,' and so that's good enough. I'm too self-conscious to look at myself on film, so I take their word for it it's good.
Read more in Billboard.
Thanks to Blabbermouth and LRT for the info.