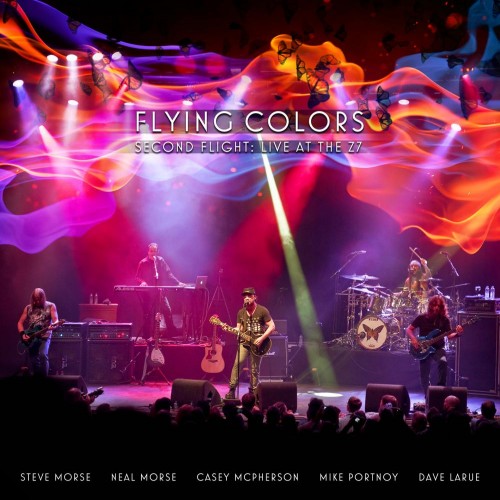 Flying Colors will be releasing their second live video album Second Flight: Live At The Z7 on November 13 via Music Theories Recordings/Mascot Label Group. Recorded at the Konzertfabrik Z7 in Pratteln, Switzerland, on October 12, 2014, the set will come out (as is usual these days) in multiple of formats: 4K UltraHD, Blu-ray, DVD, LP + MP3, CD, iTunes, Headphone Surround, iTunes, Pono.
Track listing:
Overture
Open Up Your Eyes
Bombs Away
Kayla
Shoulda Coulda Woulda
The Fury Of My Love
A Place In Your World
Forever In A Daze
One Love Forever
Colder Months
Peaceful Harbor
The Storm
Cosmic Symphony
Mask Machine
Infinite Fire
Peaceful Harbor (Orchestral Version) *
* bonus track on 3LP and digital
The promo blurb describes several technical innovations, some of them sound awesome, while others, ahem, rather questionable:
Viewers can listen in 5.1-surround from the two best seats in the house: behind the front-of-house soundboard, or right in the front row. In another first, an audio-only version of the concert is available in Headphone Surround, which recreates the front-row surround mix entirely in headphones. The headphone mix will be available in formats up to uncompressed 24 bit / 192 KHz from HD audio distributors, such as Pono. For the warmest sound and highest possible fidelity, every one of the show's mixes was mastered to 2″ analogue tape, and digitised separately for each audio format, by mix/mastering engineer Rich Mouser (Transatlantic, Weezer).
The album can be preordered directly from the label.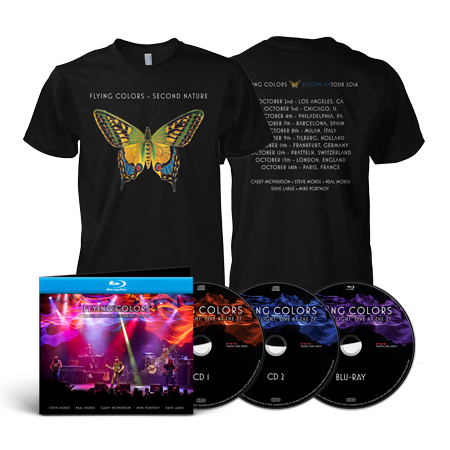 Thanks to BraveWords for the info.