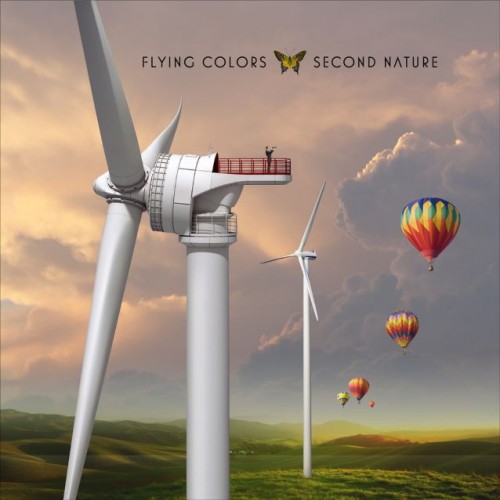 Flying Colors — one of Steve Morse's other bands — will release their sophomore studio album called Second Nature on September 29 in Europe and 30th in the rest of the world via Mascot Label Group / Music Theories Recordings. The album will come in several editions:
CD + t-shirt + DVD
2LP + t-shirt + DVD
CD + DVD
The t-shirt is also available separately. There is no word on the contents of the DVD, apart from it will be a "limited edition", and presumably later pressings will come without it. The 2LP pack will include MP3 download code (and we hope it won't be messed up like the recent Made in Japan release).
All editions can be preordered through the label and these orders are promised to come with a free bonus poster.
Track list
Open Up Your Eyes
Mask Machine
Bombs Away
The Fury Of My Love
A Place In Your World
Lost Without You
One Lost Forever
Peaceful Harbor
Cosmic Symphony
I. Still Life Of The World
II. Searching For The Air
III. Pound For Pound
Artwork designed by Hugh Syme, who was responsible for art design on most Rush albums, Whitesnake '87 and Slip of the Tongue, Aerosmith Get a Grip, Coverdale/Page, and many, many others.
In October the band will embark on a short tour to promote the album — 3 shows in the 'burbs of LA, Chicago, and Philadelphia, followed by 7 dates in 7 European countries. Full details in our calendar.
And by the way, slightly belated happy birthday, Steve!