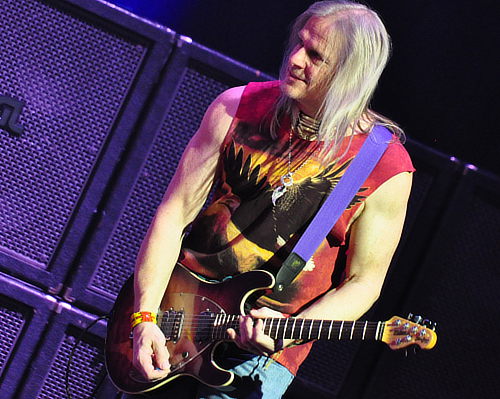 Japanese blog Muse on Muse has two interviews with both Steve and Neal Morse of the Flying Colors project:
Muse On Muse: All of your guitar solos, especially the one on "Kayla", are very beautiful and match the songs perfectly. Are your solos improvised, or do you make them prior to recording? Please tell us about your approach to guitar solos.

SM: The solos are improvised. I do several at one time, and keep erasing the worst one. When I get one that I like, I listen and fix some parts that could be a little better. Usually, I will keep the ones that accidentally have little melodic sections that surprise me. In the end, I will probably quote something from these solos such as Kayla, since they are melodic. However, thinking back on that one, I intentionally referred back to the intro melody in the solo since I felt it wasn't brought back enough during the song.
MM: What are your future plans with FLYING COLORS? Do you have plans for another album?

SM: Yes, I'm sure we do. At the moment, we haven't even done our tour yet, and everybody has busy schedules, so we don't know when that will be, but we all love the product of this chemistry and want to do more, I'm sure.
Read more in Muse on Muse.
Flying Colors embark on a short tour this September. Check the details in our calendar.
Thanks to BraveWords for the info.