Flying Colors will release Live in Europe on October 14 via Mascot Records. It is a recording of their performance in Tilburg, Netherlands, on September 20, 2012.
Available formats will include:
2CD
3LP (clear vinyl, limited to 1000 copies)
Blu-ray
DVD
Preorders made through Mascot webstore will come with the following bonuses:
free MP3 download of The Storm (live) with download link in confirmation email
free poster
free MP3 downloads of Blue Ocean and Love Is What I'm Waiting For (recorded in Hamburg on September 9, 2012) with download links sent when your order is shipped
The Blu-ray and DVD includes the 45-minute documentary First Flight featuring interviews with the band members, meet & greet footage and candid moments on the road captured backstage, in the dressing rooms, the band bus, and during tour rehearsals. The documentary also features excerpts from songs recorded during the band's very first show (LA, USA), first show in Europe (Hamburg, Germany) and final show (London, UK) of the tour.
The 3LP pack will be available separately or as a bundle with an exclusive t-shirt.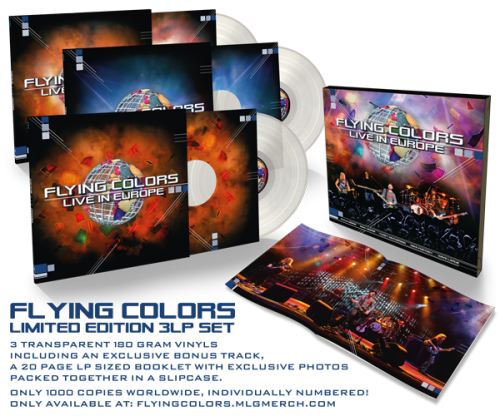 Track list:
Blue Ocean
Shoulda Coulda Woulda
Love Is What I'm Waiting For
Can't Find A Way
The Storm
Odyssey
Forever In A Daze
Hallelujah
Better Than Walking Away
Kayla
Fool In My Heart
Spur of the Moment
Repentance
June
All Falls Down
Everything Changes
Infinite Fire
Mascot records webstore: Europe, rest of the world