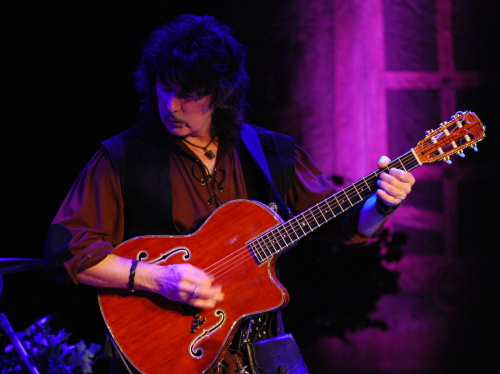 To celebrate Ritchie's 70th, The Guardian has reprinted a 1978 interview from Trouser Press magazine with the man in black. And it's one of those rare gems where he is being thoughtful, open, self reflecting and, for the most part, quite serious. To the bemusement of the interviewer:
Ritchie Blackmore turned out to be a genial model of decorum, and was fully prepared to discuss anything. Indeed, when we got over the surprise of discovering him to be a pleasant fellow, he even fielded borderline tactless questions, unthinkable to ask of someone with his image. My only complaint about the thoughtful and open Mr Blackmore was that he insisted on keeping his juiciest comments off the record.
A lot of ground was covered, from starting to play guitar at age 11, to Outlaws, to Purple, to Rainbow, and everything in between and beyond. Some of Blackmore's words became prophetic 30 years later:
Ever considered playing another kind of music?

Yeah, I have thought about that, but I'm very interested in extreme rock'n'roll. At the other extreme, I'm interested in medieval modes, quiet 15th-century sitting in a park playing little minuets … I don't like to mix the two.
Go and read it in The Guardian.