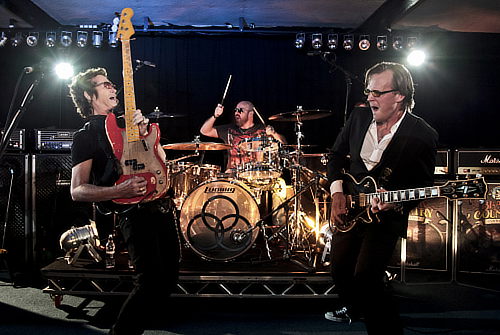 A new interview with Glenn Hughes has been published on Backstage Axxess. Here Glenn talks mostly about Black Country Communion:
Thom: The first thing I would like to talk about is the upcoming Black Country Communion album. In a day an age where it is unusual for bands to come out with an album a year, why did you decide to get back in the studio so quickly and with all of your busy schedules how did you find the time to write and to record "Black Country Communion 2."

Glenn: Kevin asked us to begin writing the follow up last summer and Joe and I had very busy schedules but I decided to free up three months and begin writing. The main reason we got back in the studio was so that when we tour this year we will have twenty-four songs to choose from instead of twelve. I come from an era in the sixties and seventies when bands were recording an album every ten months. For me, I don't just do it for a living, it is a passion, I love to write songs so this wasn't difficult for me at all.

Thom: What can we expect from your second album, how will it be different from its predecessor?

Glenn: It's a lot darker than the first album. It's hard for me to talk about it if you haven't heard it, so I can just say that after you listen to it you will see what I mean.
Read more on BackstageAxxess.com